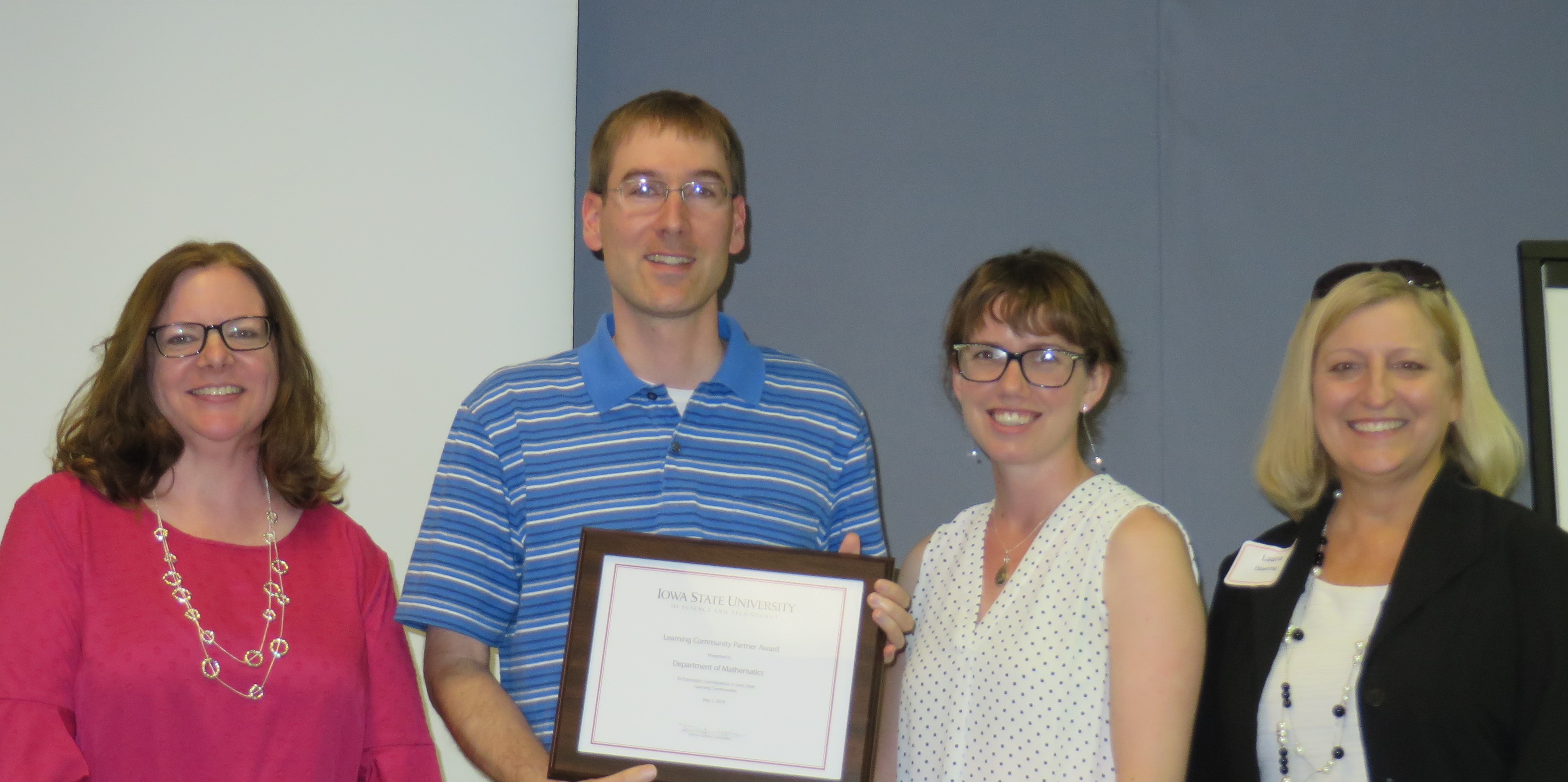 Faculty and staff in the College of Liberal Arts and Sciences (LAS) were honored for their contributions to learning communities at Iowa State at the 20th Annual Learning Communities Institute on May 7, 2018.
Amy Slagell, associate dean of LAS College, was awarded the Corly Brooke Learning Community Advocate Award. This award honors a faculty or staff member who has made significant contributions to the success of Iowa State students and learning communities. Slagell was recognized for her overarching support of the program and her direct support of the coordinators in the College of Liberal Arts and Sciences. She advocates for the continual improvement of the learning community experience through providing administrative support, actively participating in the coordinator professional development meetings and communicating the growth of learning community programs in the college.
Jenifer Saldanha, postdoctoral research associate in genetics, development and cell biology and Stacey Barnes, graduate student in plant pathology and microbiology in the College of Agriculture and Life Sciences, received the Outstanding Innovations Award for their work starting the Sky is the Limit learning community. Chelsea Smith, graduate student in the School of Education, received the Outstanding Innovations Award for her work in the BOLD learning community supervising and advising 9 peer mentors and creating programs the effectively engage students beyond the traditional student leader experience.
Jeanine Aune, senior lecturer in English, received the Learning Community Scholarship Award. This award honors an individual or team that significantly contributes to the scholarship of learning communities. Aune has worked with Nancy Boury, assistant professor of microbiology, to design an English course that improved the student understanding of the nature of science.
The Department of Mathematics received the Learning Community Partnership Award. This award honors the department for their partnership and support of learning community initiatives at Iowa State University, in particular the effort to address the Calculus sequence with a focus on women in STEM. The department, along with WiSE (Women in Science and Engineering) developed four supplemental sessions for female students in Calculus 1, which grew to seven sessions. The extra sessions helped students make better connections between calculus problems and students' majors and continue to Calculus 2 with greater confidence.
Several coordinators were also recognized at the even for their years of service to the Learning Community program. Those recognized from LAS College are listed below:
Celebrating 5 years as a coordinator:
Jessica Hansen-Moench, academic adviser in Greenlee School of Journalism and Communication
Stephanie Hamilton, program coordinator in the College of Liberal Arts and Sciences
Craig Ogilvie, Morrill Professor of physics and astronomy
Levi Stanley, assistant professor of chemistry
Dick Williams, program coordinator of ecology, evolution and organismal biology, who works with the Science of the Environment and Sustainable Systems learning community
Celebrating 10 years as a coordinator:
Cinzia Cervato, Morrill Professor of geological and atmospheric sciences, who works with the Earth, Wind and Fire learning community
David Flory, senior lecturer of geological and atmospheric sciences, who works with the Earth, Wind and Fire
Desi Gunning, program coordinator of biochemistry, biophysics and molecular biology, who works with the Biochemistry and Biophysics learning community
Celebrating 15 years as a coordinator:
Jane Jacobson, program coordinator of the College of Liberal Arts & Sciences
Celebrating 20 years as a coordinator:
Jim Colbert, associate professor of ecology, evolution and organismal biology, who works with the Biology Education Success Teams