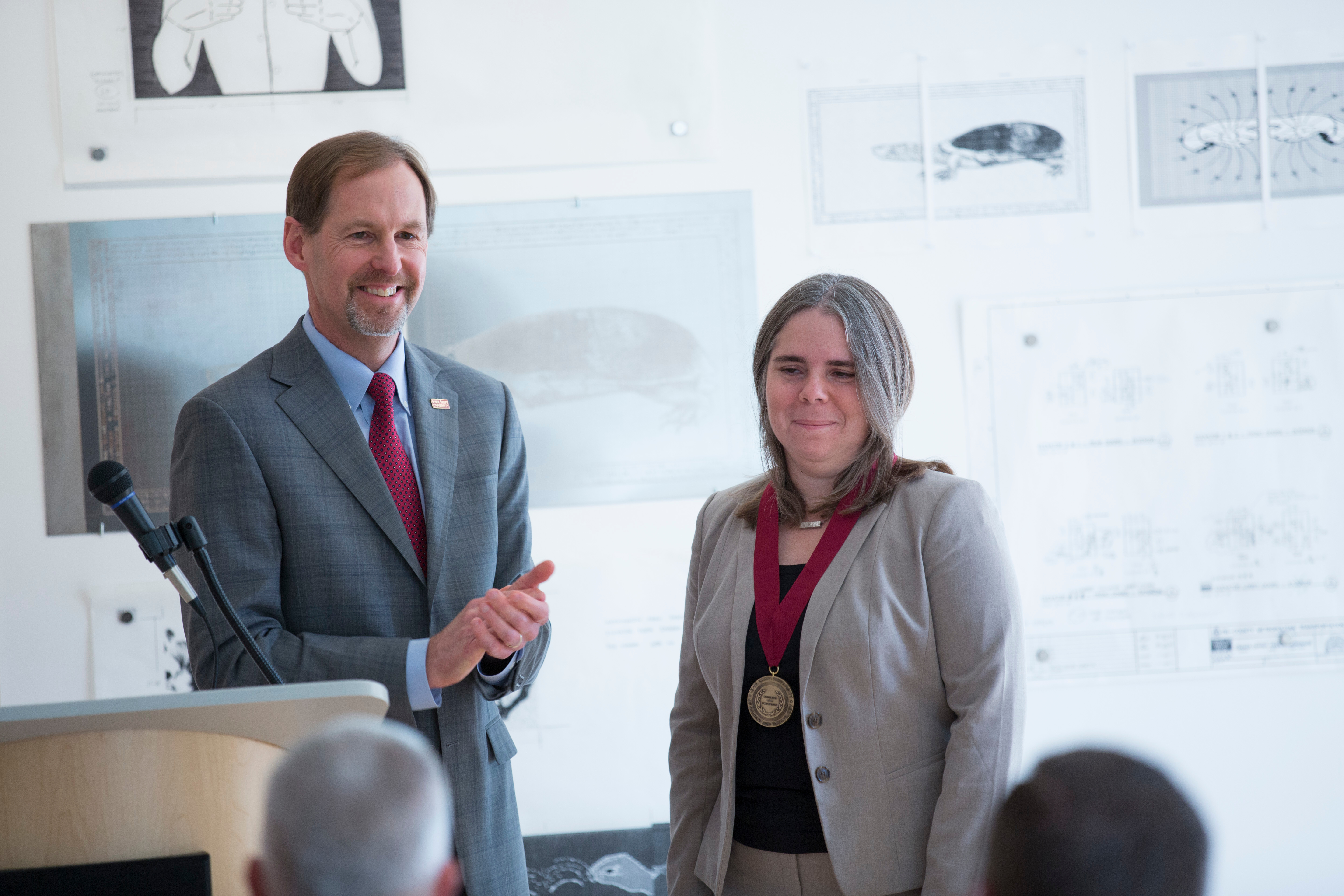 Mayly Sanchez, associate professor in the Department of Physics and Astronomy, was honored as the recipient of the Cassling Family Professorship award at a ceremony on Oct. 24, 2016. Sanchez, an experimental physicist studying neutrinos, holds a place among an elite group of young scientists whose accomplishments in research and contributions to society have been recognized at the highest levels. Dean Beate Schmittmann, Provost Jonathan Wickert, Mayly Sanchez, Lori Cassling, Randy Cassling.

The Cassling Family Professorship award was created to recognize early-to-mid career faculty members whose research is internationally visible, and which helps define the future of scientific discovery. These faculty members are leaders not only in research, but also in the classroom. Sanchez is the inaugural recipient of the award.

"Endowed professors like Mayly are key to our academic excellence," Provost Jonathan Wickert said. "We simply cannot achieve our land grant mission of providing a high-quality education, conducting groundbreaking research that addresses society's greatest challenges, and serving Iowa and the world, without having an outstanding faculty, and outstanding faculty leaders."

The Cassling family has been a long-time friend of Iowa State University and the College of Liberal Arts and Sciences. In addition to the Cassling Family Professorship they also support the Cassling Family Faculty Awards, which recognize and reward outstanding faculty in the College of Liberal Arts and Sciences.

Provost Wickert presents Randy Cassling with a token of thanks. Photo: Christopher Gannon/Iowa State University

"The Cassling Family Professorship is a tremendous opportunity to boost the quality and impact of Mayly's work and to strengthen the college and university's reputation as a worldwide leader in research excellence," Beate Schmittmann, Dean of the College of Liberal Arts and Sciences said.

Mayly's innovative research and expertise earned her a role on multiple exclusive projects, including the Long-Baseline Neutrino Facility (LBNF), which will entail the world's highest intensity neutrino beam and the innovative detectors that will provide the data from this 800-mile underground experiment.

Neutrinos are subatomic particles that are nearly undetectable, but they are essential to answer the most fundamental questions in physics and astronomy. The task of locating a single neutrino is similar to collecting a poppy seed with a large colander. The elusive nature of neutrinos drives the need for innovative research, which Sanchez is leading. Dr. Sanchez and her team apply new technologies to make photodetectors, (which detect neutrinos), more effective, and the process of studying neutrinos less expensive. Current experiments are capturing previously unattainable data on neutrino properties, which can unravel complex questions about the Universe.

In addition to answering critical scientific questions, progress in detector technology can also translate to advances in medical technology, national security, and understanding the evolution of the universe.

Sanchez was awarded the Presidential Early Career Award for Scientists and Engineers in 2012. The award is the highest honor awarded by the United States government to science and engineering professionals in the early stages of the career in research. She was also awarded the National Science Foundation (NSF) CAREER Award, an incredibly prestigious honor in the field of science.

Sanchez earned her Ph.D. and master's degree in physics from Tufts University and her bachelor's degree in physics from the Universidad de Los Andes, Venezuela. She joined Iowa State University in 2009, and holds a joint appointment with Argonne National Laboratory in Argonne, Ill.