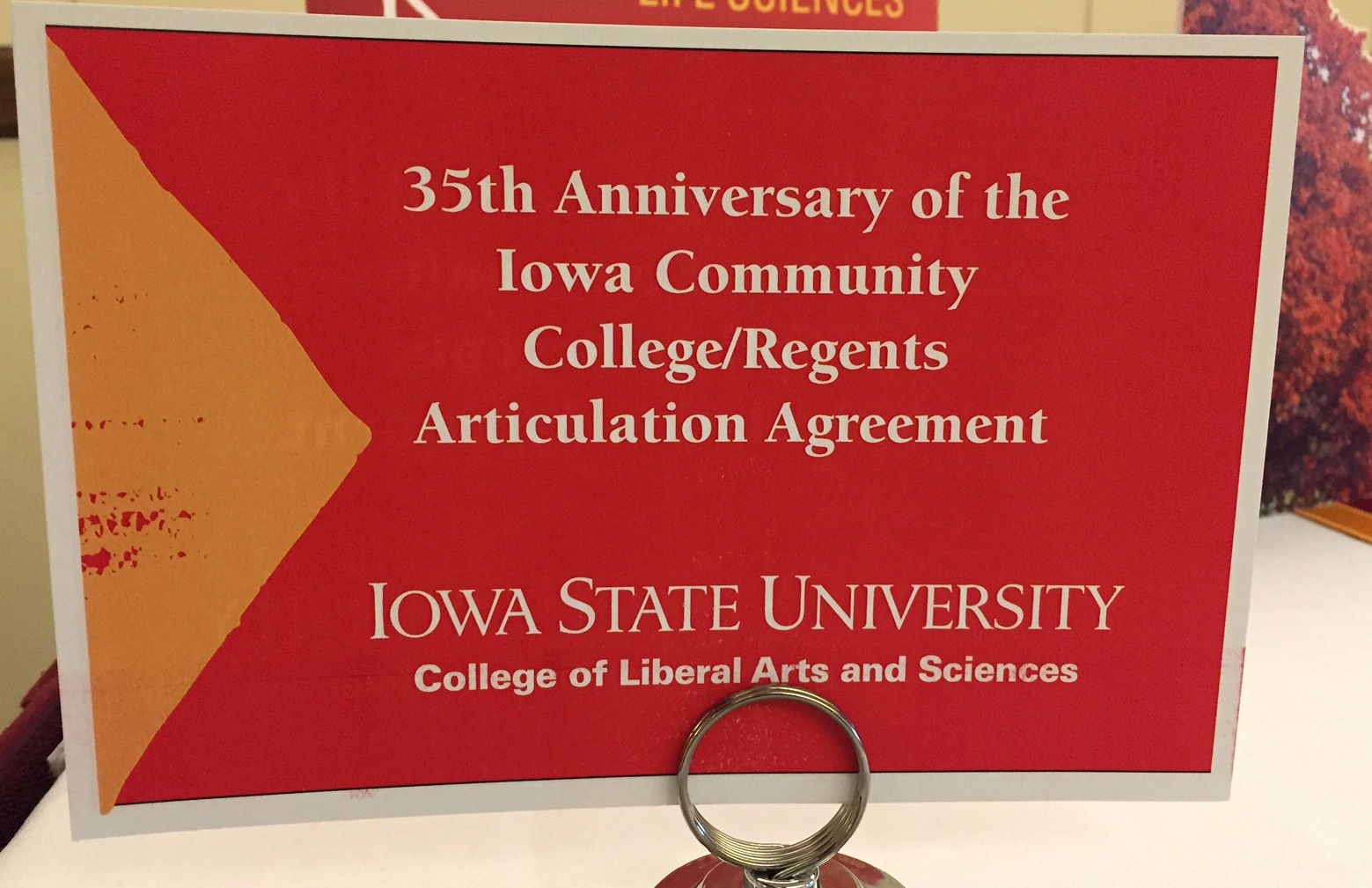 Iowa State University's College of Liberal Arts and Sciences celebrated the 35th anniversary of the Iowa Community Colleges/Regents Articulation Agreement today, a landmark agreement that has helped more than 2,000 community college students pursue a four-year degree in the college.

"For the first time in the community colleges' 15 year history, students with an associate in arts degree are guaranteed that their degree will fulfill the general education requirements in the arts and humanities divisions at the four year universities," the Iowa Department of Public Instruction wrote in a December 1, 1981 press release.

Today's celebration of the 35th Anniversary of the Articulation Agreement during a meeting of the Counselor Partnership Update Program held at Iowa State University.

Officially the agreement was signed December 2, 1981, but LAS celebrated today with Iowa community college representatives who were on campus in Ames for the annual meeting of the Counselor Partnership Update program. Jane Jacobson, LAS director of student academic services, later helped play a large role in the evolution of the agreement during the 1980s.

The agreement, which evolved into its current format in 1992, ensures that students who obtain an associates in arts degree at an Iowa community college can fulfill the coursework needed for general education at Iowa State, the University of Iowa, and the University of Northern Iowa.

In other words, if a student achieves an A.A. degree but is three credits short of meeting the LAS general education requirements, the college will waive those credits.

"It assures students that if they are transferring into an LAS major, they are moving forward by getting the A.A. degree," Dan Rice, LAS director of recruitment services said. "It's a very broad agreement in that it covers all of our majors at any community college in the state."

Students benefiting from the agreement have earned degrees from LAS in a wide variety of disciplines with the top five majors being liberal studies, psychology, sociology, English and history. It can also work for students pursuing degrees in the sciences, with additional attention to course planning. The Admissions Partnership Program, which pairs community college students with an advisor at Iowa State, can help students who intend to transfer plan their coursework appropriately.

"Liberal Studies is the number one transfer, and it works very well for the flexibility of that degree," Rice said.

It also works for students who may have previous technical training in nursing or as an EMT. Students can include up to 16 credits of technical training toward their A.A. degree, an attractive benefit to those interested in pre-med or health fields.

Two years ago Rice made it his mission to visit every single community college in Iowa and their branches, promoting the diversity of majors within LAS and the AA agreement.

"The agreement is always in our back pocket in terms of recruiting," he said.

According to a 2015 Board of Regents annual report on articulation efforts, in the fall of 2015 nearly one of every five undergraduates enrolled at Iowa State was a transfer student, which underscores the importance of the college's commitment to helping transfer students succeed.