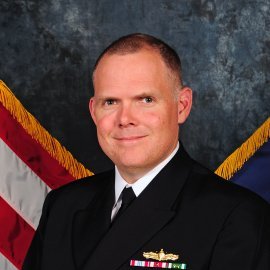 Captain Scott B. Curtis has been named the new chair of the Department of Naval Science in the College of Liberal Arts and Sciences at Iowa State University. Captain Curtis succeeds retired Captain Ricks Polk, who chaired the department since 2012.
[feature_image]
Captain Curtis is a native of Manhattan, Kansas. He graduated from Kansas State University in 1992 with a bachelor of science degree in mechanical engineering and was subsequently commissioned through the Officer Candidate School. He received a master of science degree in engineering acoustics and sub-specialty certification in undersea warfare in 2000 from the Naval Postgraduate School.
He has completed several assignments since his commissioning, including counter-narcotics operations in the western Pacific and Caribbean, a deployment in support of Operation IRAQI FREEDOM, and serving as the deputy director's special assistant for nuclear surface matters for the Naval Nuclear Propulsion, among many others.
In June of 2016 Captain Curtis reported to Iowa State University as the Professor of Naval Science and Commanding Officer of the NROTC unit.
His personal awards include the Legion of Merit, Joint Meritorious Service Medal, Meritorious Service Medal (four awards), the Navy Commendation Medal (three awards), and the Navy Achievement Medal.