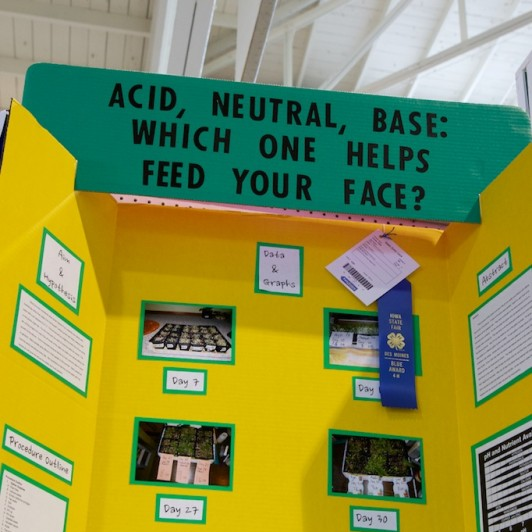 Iowa State University's College of Liberal Arts and Sciences has presented 10 "Future Discovery Awards" to 4-H participants at the 2015 Iowa State Fair.
The Future Discovery Award is a $500 scholarship, which will be given to each student upon enrolling at ISU and pursuing a Liberal Arts and Sciences major.
The scholarship was presented to 4-H participants whose State Fair exhibits exemplified "innovation, curiosity, and scholarship foundational to a liberal arts and sciences education." Winning entries ranged from a wind turbine blade experiment to a Twitter-enabled coffee pot.
"We looked for blue ribbon 4-H projects that exemplified the values inherent in a liberal arts education," Dan Rice, the college's Director of Recruiting and a judge, said. "In addition, quality and creativity in presentation were evaluated."
The projects selected represent the five "academic interest areas" that make up the College of Liberal Arts and Sciences: Humanities, communications, mathematics and computational sciences, natural sciences, and social sciences.
Nearly 3,000 participants presented exhibits, which were first reviewed by 4-H judges. Afterward, Liberal Arts and Sciences staff selected 10 award recipients from about 1,500 blue ribbon-holding exhibits.
"Judging was no easy task," Rice said. "But it is fantastically rewarding to see the wealth of talent, knowledge, and potential we have from all ages and corners of the state. These participants show strong intellectual promise, and we are pleased to present them with a Future Discovery Award."
"We wish we could award hundreds of these awards to recognize all the creativity and inventiveness that we saw in the 4-H exhibits at the Iowa State Fair," Beate Schmittmann, college dean, said. "We hope to welcome the winners as new students in our college in a few years."
Meet the 2015 Future Discovery Award recipients:
Soren Cleveland, 11 Exhibit: Wind Turbine Blade Experiment Related LAS major: Physics About his exhibit: Tested different blade shape variables that affect the efficiency of wind turbines.
Hannah Dea, 17 Exhibit: The Latin Game Related LAS major: Linguistics About his exhibit: Developed a game to help teach Latin.
Katie Jones, 14 Exhibit: Acid, Neutral, Base: Which One Helps Feed Your Face? Related LAS major: Chemistry About his exhibit: Experimentally tested the effect of water pH on lettuce growth.
Jenna Kock, 12 Exhibit: Sensory Box Related LAS major: Psychology About his exhibit: Explored child development concepts through creation of a sensory box.
Cassy Olesen, 16 Exhibit: PAWS & Effect Fundraiser Related LAS major: Public Relations About his exhibit: Facilitated fundraiser to raise awareness of Post-Traumatic Stress Disorder.
Wesley Peters, 16 Exhibit: O'Brien County Rural Schools Related LAS major: History About his exhibit: Documented nearly 100 years of rural school history in O'Brien county.
Cole Pontier, 11 Exhibit: Twitter Coffee Pot Related LAS major: Computer Science About his exhibit: Created a component that started a coffee pot when it detects a tweet on Twitter.
Grace Shemanski, 16 Exhibit: How Hot is Your Atmosphere? Related LAS major: Chemistry/Meteorology/Earth Science About his exhibit: Experimentally tested the effect of carbon dioxide level on temperature.
Elizabeth Sloan, 12 Exhibit: Girl With Messy Hair Related LAS major: English About his exhibit: Wrote an original short story.
Kristen Twinam, 15 Exhibit: United Nations Related LAS major: Political Science About his exhibit: Created interactive display to teach about the United Nations.
About Liberal Arts and Sciences The College of Liberal Arts and Sciences is a world-class learning and research community. Iowa State's most academically diverse college, LAS educates students to become global citizens, providing rigorous academic programs in the sciences, humanities and social sciences within a supportive personalized learning environment. College faculty design new materials, unravel biological structures, care for the environment, and explore social and behavioral issues. From fundamental research to technology transfer and artistic expression, the college supports people in Iowa and around the world.
NEWS RELEASE College of Liberal Arts and Sciences, Iowa State University
Contacts: Dan Rice, (515) 294-4831, drice@iastate.edu Jess Guess, Liberal Arts and Sciences Communications, (515) 294-9906, jguess@iastate.edu