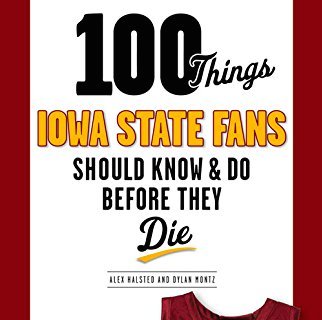 The following press release was submitted by the Greenlee School of Journalism and Mass Communication.
Everyone knows that Iowa State fans are among the most loyal in the NCAA, especially two Greenlee School journalism graduates who have published 100 Things Iowa State Fans Should Know and Do Before They Die.
Alex Halsted, who covers ISU athletics for the Scout Media Network, and Dylan Montz, sports reporter for the Cedar Rapid Gazette, are authors of a book billed as "the ultimate resource guide" for true Cyclone fanatics. The work, with a Sept. 1 release date—available now on Amazon—also features forewords by ISU icons Fred Hoiberg, former Cyclone basketball coach (now coach of the Chicago Bulls), and Sage Rosenfels, former NFL quarterback for the Miami Dolphins and Houston Texans.
The book notes that most Iowa State fans "have taken in a game at Jack Trice Stadium or Hilton Coliseum and have seen highlights of (NFL running back) Troy Davis and Fred Hoiberg. But only real fans know how the team name came to be, the location and story behind the 'Honor Before Victory' plaque, or were there when the basketball team made an Elite Eight run in 2000." 100 Things Iowa State Fans Should Know & Do Before They Die promises to expand on those tidbits with dozens more.
Upon learning that their book was being released, Halsted and Montz sent Greenlee School Director Michael Bugeja a message about the quality education they received at Iowa State.
"We wanted to take a second to thank you and Greenlee," Halsted wrote. "We both made big strides with the help of so many people within the school and were especially helped by spending three years at the Iowa State Daily. We're both proud to have been able to have Greenlee and the Iowa State Daily mentioned in the book alongside our names."
In another email Montz echoed Halsted's message about the Daily and faculty at Greenlee. "I came to Iowa State with very little experience in the journalism and communications field, but know the faculty and opportunities provided by Greenlee have been invaluable in furthering my journalism career."
Bugeja remembers Halsted as a prospective student several years ago. "Right out of high school he already had a book contract," Bugeja stated, "and I knew we just had to recruit him." That book, also available via Amazon, is titled 100 Things Twins Fans Should Know and Do Before They Die.
Cyclone fans who want to follow Halsted and Montz can do so on Twitter: @AlexHalsted and @dylonmontz.