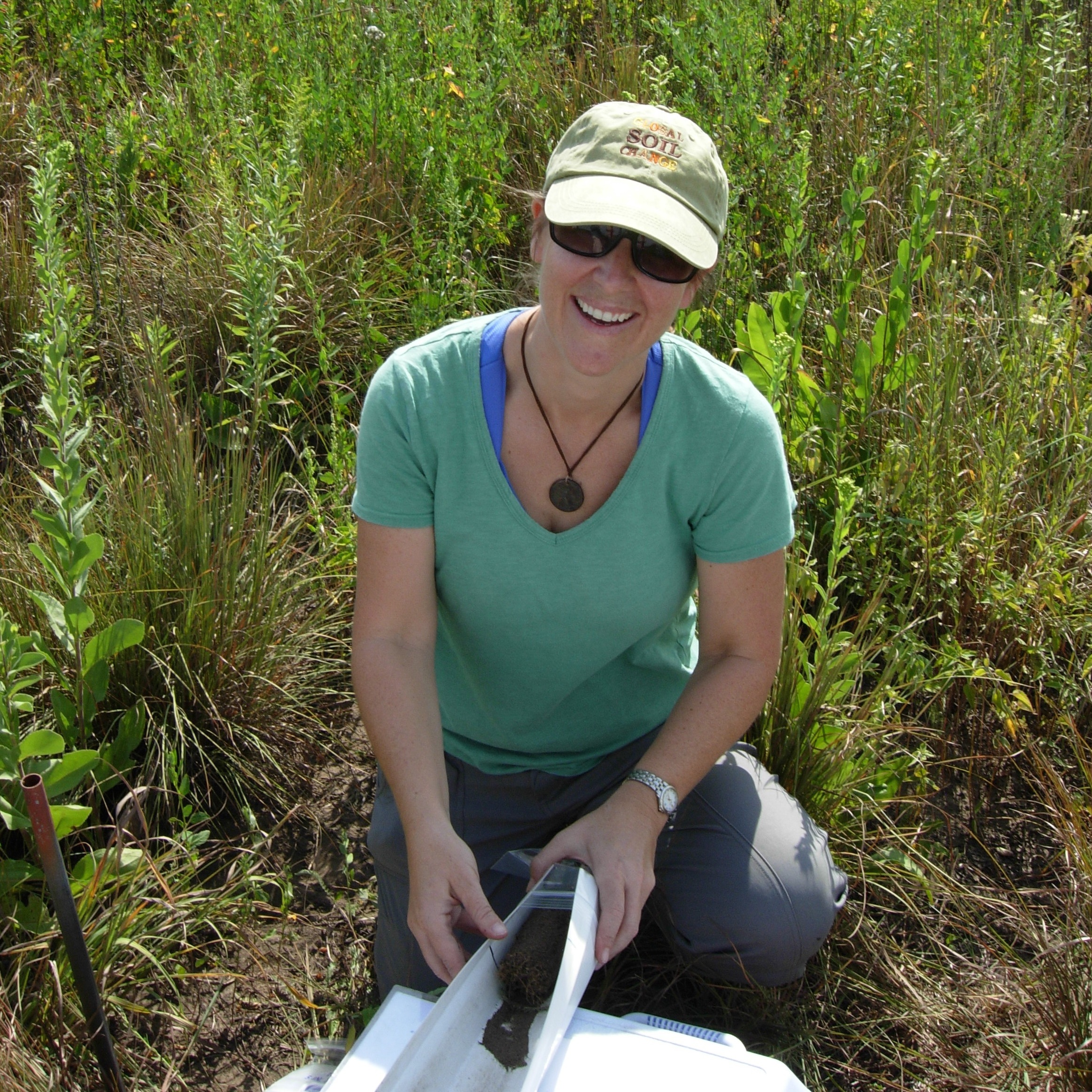 Monitoring soil carbon increases and nutrient retention in agricultural grounds is a challenging task. The processes occur over long periods of time, and nature rarely follows a set order – varying spatial scales create diversity among communities of organisms, as well as events such as energy inputs, disturbances, and interactions between species on those grounds. The research process can take decades.
Kirsten Hofmockel and Elizabeth Bach don't want to wait that long. Hofmockel, a professor in the Department of Ecology, Evolution, and Organismal Biology at Iowa State University, and Bach, a postdoctoral research associate at the Prairie Research Institute's Illinois Natural History Survey, are investigating a new approach that could be measured in just a few growing seasons.
"We're looking at a small scale for big measures," Hofmockel said. "It's a novel approach."
Typically, the approach is to take samples from several acres or even several hundred of acres in the same field. Hofmockel and Bach also take samples from fields several acres large, but their samples are so small they can reveal details of how soil is functioning in an exact location. This allows them to see changes in these micro-habitats between different crop systems, including bioenergy, cornfields, and tallgrass prairie.
Hofmockel and Bach looked at microbial activity in aggregates in the soil – microscopic clumps of dirt that, when they fall apart, release carbon into the air. They collected samples every month for two years worth of growing seasons.
They found that more microbial activity coupled with greater aggregation in prairie bioenergy systems might reduce the loss of soil's organic matter through decomposition, and increase carbon storage.
More activity equals more storage?
"That's one thing that we spent a lot of time wrestling with," Bach said. "We know that aggregates form and reform naturally over time. But we found that when organic matter and microbes get stuck in the aggregates, they are stored in the soil for a really long time."
Bach said microbes in the soil decompose plant and animal residues in the soil, releasing carbon dioxide.
"Carbon pools are big and they take a long time to change," she said. "By taking a micro sample, we get a sneak peek at the big picture."
Their findings will be published in a paper titled "A time for every season: soil aggregate turnover stimulates decomposition and reduces carbon loss in grasslands managed for bioenergy" in Global Change Biology Bioenergy, a newly open access research journal, later this month.
Their overarching goal is to think about incorporating prairies as a viable agronomic system to produce better ground for farmers. "Planting a diverse tallgrass prairie might prove to be valuable in rebuilding soil nutrients and carbon, as well as capturing soil and carbon runoff in the landscape," Bach said.
About Liberal Arts and Sciences The College of Liberal Arts and Sciences is a world-class learning and research community. Iowa State's most academically diverse college, LAS educates students to become global citizens, providing rigorous academic programs in the sciences, humanities and social sciences within a supportive personalized learning environment. College faculty design new materials, unravel biological structures, care for the environment, and explore social and behavioral issues. From fundamental research to technology transfer and artistic expression, the college supports people in its community and around the world.
NEWS RELEASE College of Liberal Arts and Sciences, Iowa State University
Contacts: Kirsten Hofmockel, Ecology, Evolution, and Organismal Biology (khof@iastate.edu) Elizabeth Bach, Prairie Research Institute's Illinois Natural History Survey (ebach@illinois.edu) Jess Guess, College of Liberal Arts and Sciences Communications (jguess@iastate.edu)