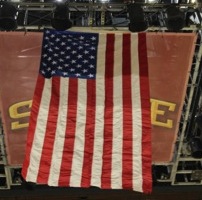 This story was written by Lt. Josh Riley, adjunct instructor of Naval Science.
On Tuesday, May 5th, a flag was flown high inside Hilton Coliseum. The flag flown was no ordinary flag, it was a retirement flag for BMC (SW) Pace, a Boatswain's Mate Chief Petty Officer who is retiring from Naval Service after over 20 years of dedicated service to his country. BMC Pace is a huge Iowa State Cyclone fan who is currently onboard the USS New Orleans (LPD-18).
The flag that was flown over Hilton will be a centerpiece in BMC's retirement ceremony. The flag will be passed along a line of sailors in full dress uniform, with white gloves, while the Olde Glory Presentation takes place. The Olde Glory presentation is a time honored retirement tradition that is meant to honor the tenacity and sacrifice of the sailors, soldiers, and marines who have served under her.
The poem read during the presentation follows:
"I am the flag of the United States of America. My name is Old Glory. I fly atop the world's tallest buildings. I stand watch in America's halls of justice. I fly majestically over great institutions of learning. I stand guard with the greatest military power in the world. Look up and see me!
I stand for peace – honor – truth and justice. I stand for freedom. I am confident – I am arrogant – I am proud.

When I am flown with my fellow banners, my head is a little higher – my colors a little truer.

I bow to no one!

I am recognized all over the world. I am worshipped – I am saluted – I am respected – I am revered – I am loved - I am feared!

I have fought in every battle of every war for more than 200 years: Gettysburg, San Juan Hill, the trenches of France, the Argonne Forest, Anzio, Rome, the beaches of Normandy, Guam, Okinawa, Japan, Korea, Vietnam, in the Persian Gulf and a score of places long forgotten, by all but those who were there with me ... I was there!

I led my soldiers, sailors, airmen and marines. I followed them and watched over them. They loved me.

I was on a small hill in Iwo Jima, I was dirty, battle worn and tired. But my soldiers cheered me! And I was proud!

I have been soiled, burned, torn and trampled on in the streets of countries I have helped set free, but it does not hurt – for I am invincible!

I have been soiled, burned, torn and trampled on the streets of my own country and when it is done by those whom with I have served in battle… It hurts!!! But I shall overcome – for I am strong!

I have slipped the surely bounds of earth and, from my vantage point on the moon, I stand watch over the new frontiers of space. I have been the silent witness to all of America's finest hours.

But my finest hour comes when I am torn in strips, to be used as bandages for my wounded comrades on the field of battle. When I fly at half-mast to honor my soldiers, my sailors, my airmen, my marines, firemen and policemen and medical workers, and when I lie in the trembling arms of a grieving mother at the graveside of her fallen son or daughter… I am proud!

My name is "Old Glory". Long may I wave. Dear god, long may I wave!"
These touching words capture the importance of the flag and all that it stands for. Traditionally, the flag used will be flown from the location of the retiree's choosing. In this case, BMC Pace requested to use a flag that has been flown from his favorite team's mecca… Hilton Coliseum. Congratulations to BMC Pace and thank you for your service.