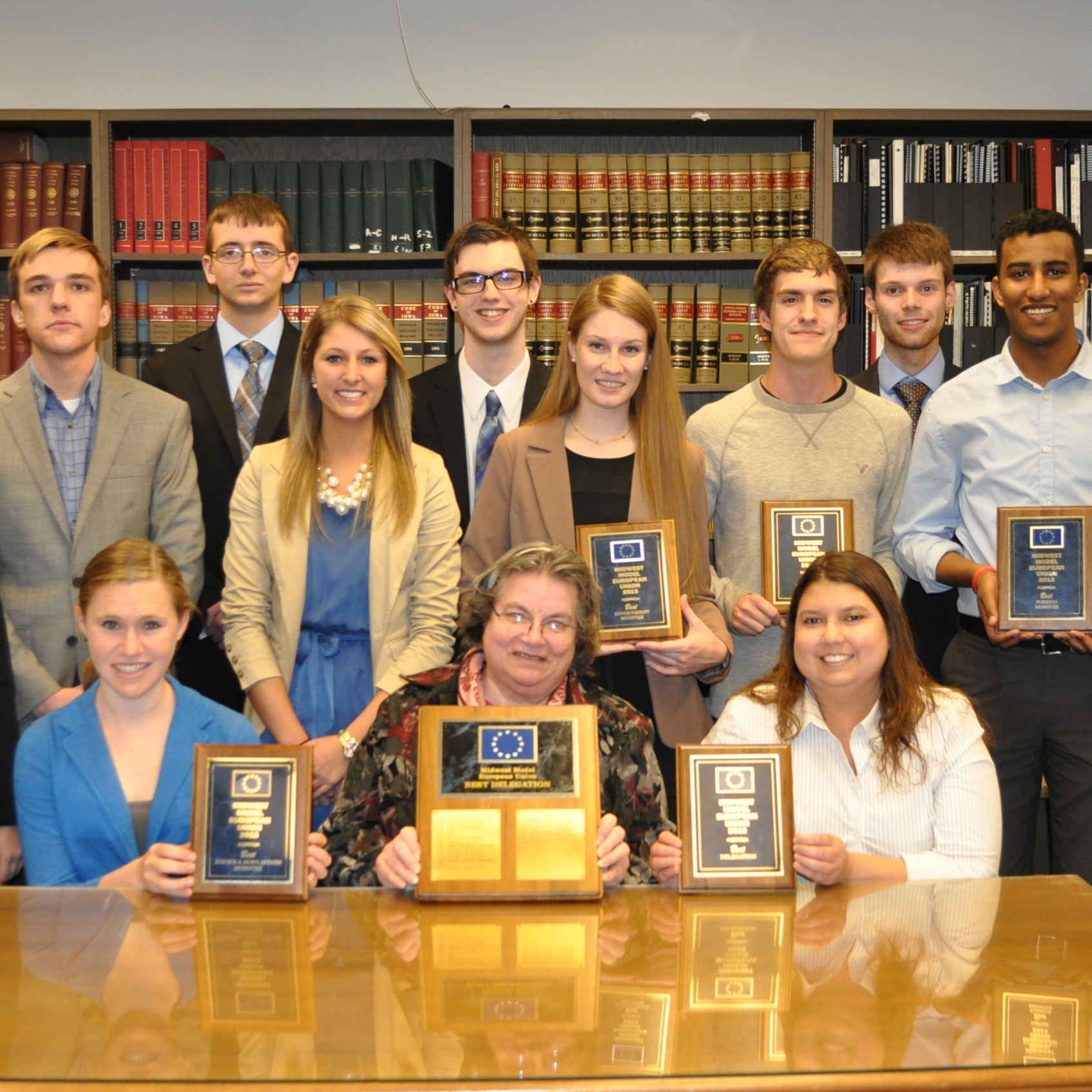 The Iowa State University team representing Slovakia won top prize in the Midwest Model European Union that was conducted April 9-11, 2015. Iowa State fielded three teams, representing Slovakia, Estonia, and Bulgaria. The event took place at Indiana University in Bloomington, Indiana, in a competition that involved 17 different universities and colleges covering the Midwest from Ohio to Texas and Colorado.
EU-Midwest is designed to help college and university students learn about the workings of the European Union through a hands-on simulation (further information).
The top award is given to the team that is most effective in passing legislation, most in character for their country, and the best exemplar of the European Union. The winning team consisted of: Dakota Canning, Jacob Armstrong, Chelsy VanOvermeiren, Nichola Reed, Andre Fackler, Jacob Peters, and Tara Aberle.
Iowa State also won 6 of the 7 individual awards. Dakota Canning, representing Slovakia, won the award for best president. Melinda Busch, representing Estonia, won the award for best environmental minister. Nicholas Reed, representing Slovakia, earned the award for best finance minister. Jacob Peters, representing Slovakia, was recognized as best home affairs minister. Hamad Abbas, representing Bulgaria, won the award for best foreign minister. Richard Hartnett, representing Bulgaria, was recognized as best EU Commissioner.
Dr. Ellen Pirro is faculty instructor and adviser for ISU's Model European Union. Congratulations to Dr. Pirro and to all the ISU students who participated!