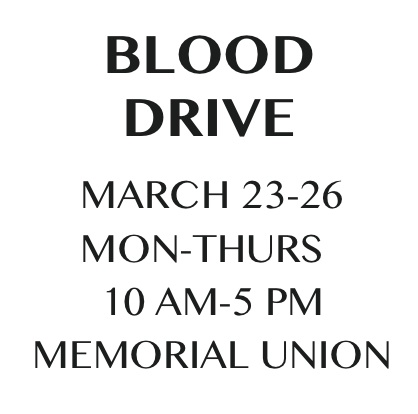 The Spring 2015 Blood Drive will be held Monday, March 23 through Thursday, March 26 from 10 a.m.-5 p.m. daily.
Please announce the event to the students in your classes. Inspire students to donate and help save lives! Both the student volunteers and donors are critical in making the blood drive a success; NOT all students have to donate; there are additional options available for students to receive this incentive such as volunteering, donating cookies for the event, or attending the blood drive informational session in the evening on March 11.
In the past, professors who have offered a few extra credit points, a small extension on an assignment, or even an extra "excused absence" have vastly helped increase participation among donors and volunteers. Last semester alone, academic incentive counted for nearly 700 extra students participating in blood drive! As you can see, support and promotion from faculty is one of the key factors in making Iowa State's blood drive so successful.
If you choose to offer an academic incentive or to announce our event in your courses, please email blooddriveacademic@gmail.com with (1) your name and (2) the course/section numbers for which you will be offering incentive or giving an announcement. Organizers will collect Student ID numbers and any other information upon your request and within one week of the drive, distribute that information back to you.
Finally, we are challenging each college to have the highest participation at this semesters's drive. There are two competitions, the college with the highest percentage of undergraduate participation and the college with the highest faculty support and contribution.
You can help the drive and the College of Liberal Arts and Sciences by getting involved yourself, announcing the drive to your students, or providing academic incentive! Please consider participating in this important event!