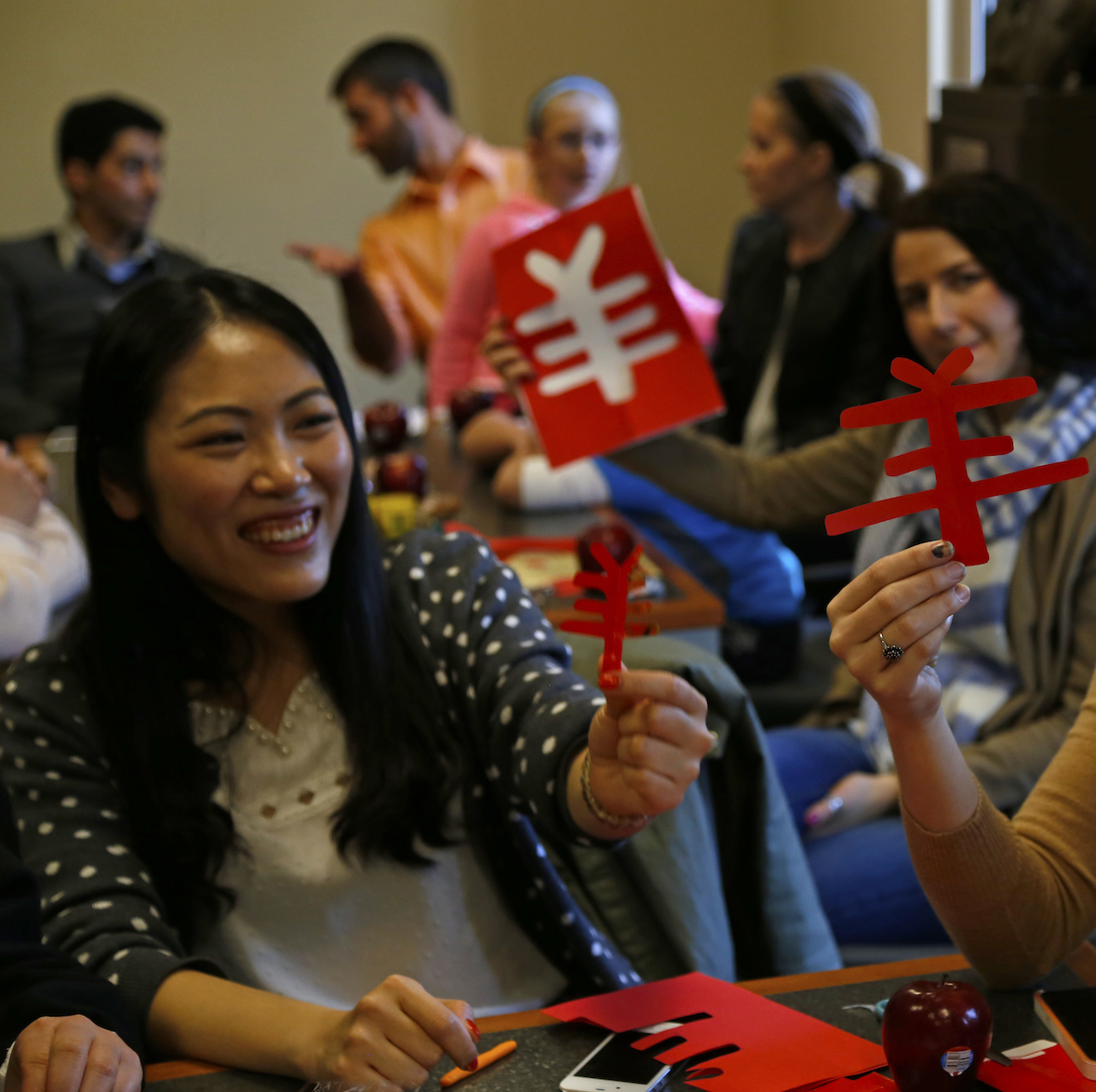 This story was submitted by Ruiqi Lin and Terigele, Journalism and Mass Communication graduate students.
The Greenlee School of Journalism and Communication has bid farewell to the Year of the Horse and, since Feb. 19, has begun celebrating the Lunar New Year, ushering in the Year of the Goat.
[feature_image]
Discussion abounds at Greenlee as to which particular zodiac, sheep, goat or ram should represent the New Year. In any case, the Chinese character Yang (羊) indicates a gentle, softhearted, and considerate personality, just like the people in the Greenlee School, who collaborated as friends and colleagues in preparing and carrying out the fifth annual event in Hamilton Hall on March 6.
The program for this year's celebration included Chinese songs, poetry recitals, Chinese music instrument-Guzheng-solo, French horn solo of a Chinese folk song, fan dance, along with participatory games, such as Play-Doh sheep, Chinese papercut art, hands-on Chinese cooking, and more. Dr. Jonathan Wickert, Senior Vice President and Provost, and Rob Schweers, Director of Communications, also stopped by the event to revel with Greenlee students, faculty and staff members.
This is the fifth Chinese New Year celebration scheduled since 2011. "This is a signature event in the Greenlee School," said Dr. Michael Bugeja, the School director. "It has been and will remain one of our most important occasions because the Lunar New Year brings faculty, students and staff together to celebrate with and learn from each other, especially about one of the world's oldest and richest cultures."
Dr. Daniela Dimitrova, the School's director of graduate education, appreciates the work and commitment associated with this event, adding "all the Chinese students transform from simply being masters students to becoming cultural ambassadors, and they bring a great benefit to ISU and the state of Iowa."
Dr. Gang Han, an assistant professor who took the lead in organizing this event, noted, "For those students who travel far away from home, Chinese New Year, or the Spring Festival, is the most important holiday over an entire lunar year. The annual celebration at Greenlee has become a brand new and exciting experience for everyone from China to share the special cultural occasion with friends in the U.S. and from around the world."
David Faux, the University Museums' interpretation specialist, shared his experience attending previous celebrations. "The program is always extremely entertaining as well as educational," he said. "It's a treat to hear the students talk about the customs in their various regions, sing and dance to traditional and pop music."
Xiaowen Zhu, a Greenlee masters student, said, "Although Chinese New Year would be a time for homesickness without families around, the celebration makes me so happy, because I am so glad to know many friends here in the School who are interested in Spring Festival and Chinese traditions."
"I really appreciate every Chinese student's work on it," said Haejung Shin, a first-year graduate student in Greenlee School from Korea, "Both Korea and China have tradition of lunar new year celebration. It is a good chance to know more about different Asian cultures".
Kelsey Batschelet, a second-year Greenlee graduate student, said the celebration "is wonderful, and I am really looking forward to it. Everyone works so hard to present a perfect celebration. I cannot wait to see every peer and staff in our department, and I am interested in learning Chinese traditions during our celebration."
There are 50 graduate students currently enrolled in the Greenlee School and over half of them come from China.
"These are some of our finest graduate students," Dr. Bugeja said. "But more important, they establish lifelong friendships with our faculty and fellow graduate students." The lesson this year is to be gentle, softhearted, and considerate in all of our dealings, he added, enhancing "the multicultural experience at Greenlee."
-30-
About Liberal Arts and Sciences The College of Liberal Arts and Sciences is a world-class learning and research community. Iowa State's most academically diverse college, LAS educates students to become global citizens, providing rigorous academic programs in the sciences, humanities and social sciences within a supportive personalized learning environment. College faculty design new materials, unravel biological structures, care for the environment, and explore social and behavioral issues. From fundamental research to technology transfer and artistic expression, the college supports people in Iowa and around the world.
NEWS RELEASE College of Liberal Arts and Sciences, Iowa State University Greenlee School of Journalism and Communication
Contacts: Dr. Gang Han, (515) 294-0482 (ghan@iastate.edu) Ruiqi Lin, (515) 708-6945 (rlin@iastate.edu)