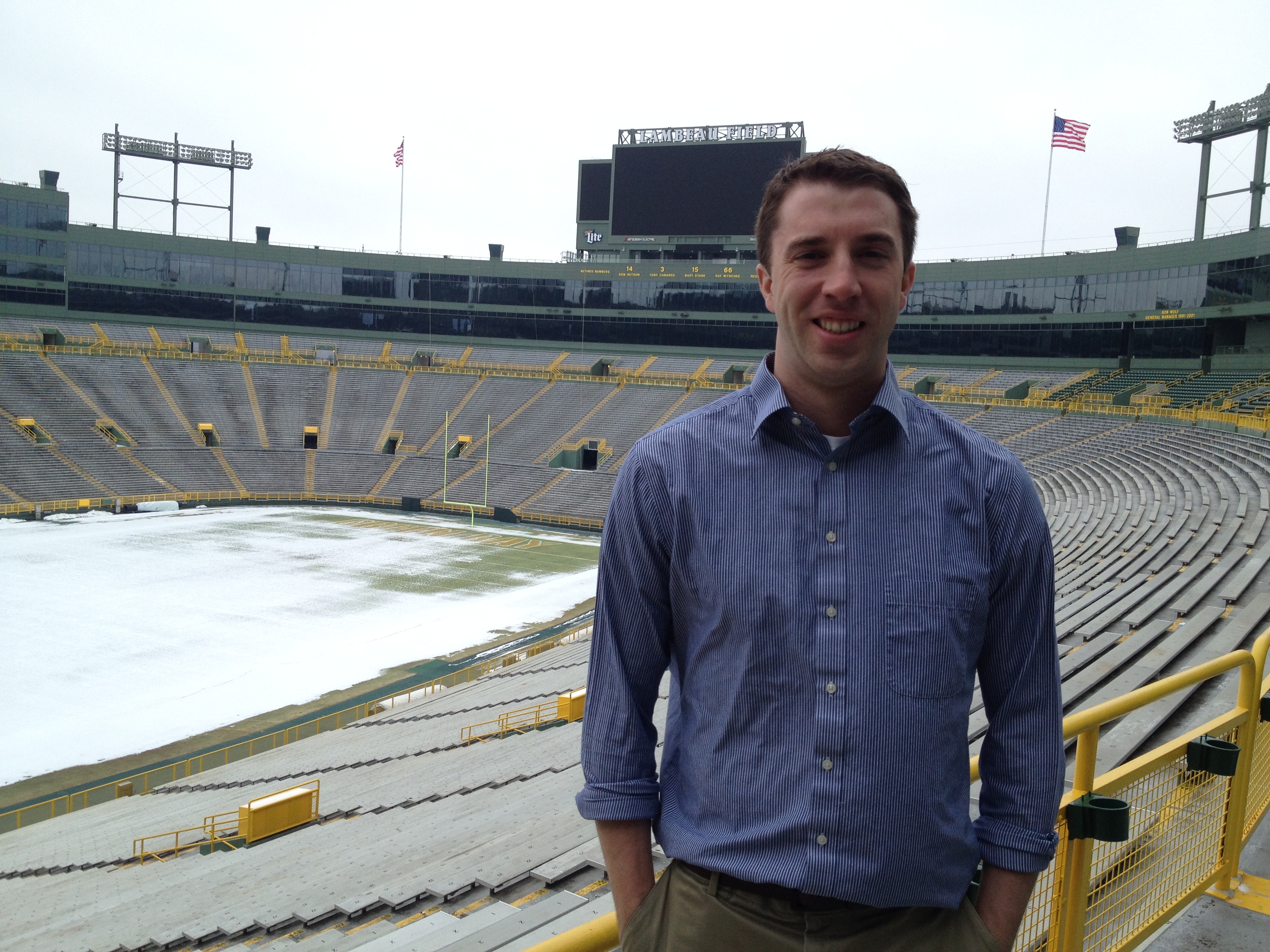 [autop] [feature_image]
This is Adam Hoebelheinrich, video editor for the Green Bay Packers. Adam graduated from the College of Liberal Arts and Sciences in the Spring of 2009 with a degree in Journalism and Mass Communications.
Tell us what you do: The long-term goal of my job is the development of a TV platform where our small group will produce multiple team-oriented shows during the season. In the meantime, I produce and edit video for the team website.
What's the best part of your job? I love meeting our ultimate goal, and that is to serve and entertain our fans. We want to give the fans every opportunity to see what this organization is all about, both on and off the field. The team only suits up for a few hours a week 4-5 months of the calendar year. It's up to us to fill in the rest of the gap with news and entertainment as it pertains to the team. The Packers have some of the best fans in the world, and it's just a blast to give them material to consume in advance for the next big game. As a "corny" aside, I also love just pulling into the Lambeau Field parking lot each morning. That never gets old.
What personal or professional accomplishment makes you the most proud? I've only been with the Packers for five months, so I'm still working on that great crowning achievement. In my television job I held prior to arriving in Green Bay, I was named "Trainer of the Year" in my content edit department for my work training new hires on our edit software and standard operating procedures. I love helping others reach their professional goals just as much as I love helping myself, so that accomplishment was a big deal to me.
What impact has your liberal arts and sciences education had on your career? I was provided so many opportunities in college to find my preferred craft and hone it for a future career in television. The College of Liberal Arts and Sciences and the Greenlee School provide their students with so many hands-on activities in and out of the classroom. The faculty loved the "trial by fire" approach to help concepts and learning experiences sink in every day in the classroom. The extracurricular activities introduced me to so many students in my field with numerous strengths and common goals for a future career. I learned so many things from my teachers and classmates that I use when training others looking to make their mark in the television industry.
Tell us about a faculty or staff member who had a strong influence on you or your career: It's too hard to single any one faculty member out. I know I always loved bending the ear of those who had worked TV jobs prior to working at Iowa State. Any first-hand accounts of the work I was looking to get into after graduation was extremely beneficial. I will say that I loved the few conversations I had with the late Barbara Mack of the Greenlee School of Journalism. I never actually had a class with her while at Iowa State, but our paths crossed a handful of times. She always told it like it is and her honesty with her students was always refreshing.
What activities were you involved in as a student? My involvement with Pi Kappa Alpha fraternity opened a lot of doors for me. In addition to leadership roles I held with my fraternity, I also served a two years on the Interfraternity Council. I got involved with Relay for Life, Dance Marathon, Broadcast Club, and the Iowa State Daily. I also had a lot of fun working with ISU-TV for three years. During my senior year, I feel like I was in the studio on a daily basis!
What is your advice for current LAS students? Don't be afraid to aim for the fences when trying to find your career. I applied for hundreds of jobs all over the map after I graduated, and most of them were well over my head and likely out of reach. I've been lucky to work for some fun organizations, and it was only because I didn't sell myself short in my search. The worst thing they can do is say no!
[/autop]
[autop]
Favorite ISU tradition: Attending football and basketball games
Favorite ISU class: JLMC 354 (putting together our own newscasts)
Most memorable ISU experience: Any time we beat the Hawkeyes in anything [/autop]
[feature_footer author="kelsey-roehrich" read_more="alumni"]