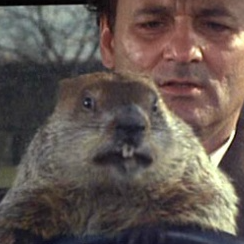 The origin of Groundhog Day is a bit foggy, but this chunky rodent is clearly the king of weather folklore.
Feb. 2 is when the groundhog is supposed to emerge from hibernation and step into the mid-winter weather. If it's sunny and the critter has a shadow, winter will last another six weeks. On the other paw, if there's no shadow, spring is on its way.
The most famous groundhog is Phil, the official forecaster for the top hat-wearing members of the Inner Circle in Punxsutawney, Pa. Two miles east of town at Gobbler's Knob, Phil pops out of his portable burrow during a town festival.
Although Punxsutawney Phil is reportedly the most photographed Pennsylvanian, he would not pass a Bill Gallus ISU meteorology course. Records show Phil's forecasts have been on the mark only 39 percent of the time. Although Gallus says western Pennsylvania is even cloudier than Iowa this time of the year, Phil has officially seen his shadow 101 times since 1887, perhaps the result of bright lights more than sunlight.
If Phil were in Ames, Iowa State's Professor Gallus said it would be a coin flip if the animal, also called a woodchuck, would see its shadow. "February is a fairly cloudy time of year in central Iowa," Gallus said. "We average eight sunny days and six partly cloudy days in February. So it is almost a 50-50 chance of him seeing at least a little bit of a shadow."
Groundhog Day temps in Ames can vary, with a record high of 60 (1987) and a record low of minus 28 (1996). Gallus said the average high and low for the date here is 29 and 9.
Throughout history, humans used nature to forecast winter, he said. "Everybody always wanted to know about the coming winter, and they often looked to animals."
Most examples have no scientific base, such as the size of the brown band on the back of a woolly bear caterpillar ("The wider the band, the milder the winter"). But Gallus said nature sometimes is a good weather predictor ("A ring around the moon means rain coming soon").
He explained a ring forms around the moon (or sun), when a sheet of ice clouds is present. "The light is refracted by the shape of ice crystals, typically at the leading edge of large masses of clouds associated with widespread precipitation. And, you probably will receive rain or snow within a day or so." – Steve Jones
Groundhog Day facts More on groundhogs