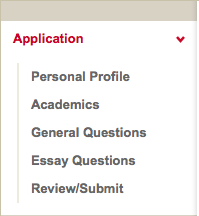 I'm baaaack! Remember my post before break?

I skied for the first time over break!

Well, I followed through! I tried something new, I signed up to volunteer and I applied for internships and scholarships.  Now I'm back on campus to tell you about the College of Liberal Arts and Sciences' slick scholarship application that I completed over break. The  College of Liberal Arts and Sciences scholarship application is due February 10th. That isn't much time!

First, head to the College of Liberal Arts and Sciences website. Right there on the home page you can scroll down and find "Scholarships" in the bottom right menu.

After you have clicked "Scholarships" select which application applies to you. I selected "Current Students" because… well, yeah. From this page you can also apply for scholarships based on your area of study and for study abroad trips! Click on "Apply for 2015-2016 Scholarships Here" in red. You will be prompted to log-in with your ISU Net-ID so have that information ready. 

Once you have logged in, you've made it! From here it's all smooth sailing!

Here are the fast facts:
The application has only four sections
You can save and come back at any time before February 10th
Be prepared to explain your leadership, work and extracurricular activities
You can review all of your answers on the final "Review/Submit" page
Once you submit you cannot go back and make changes!
Wasn't that easy? In fact, that was so fast maybe you should go apply for more! Check out the full listing of scholarships here.
Posted by: Sarah Curran