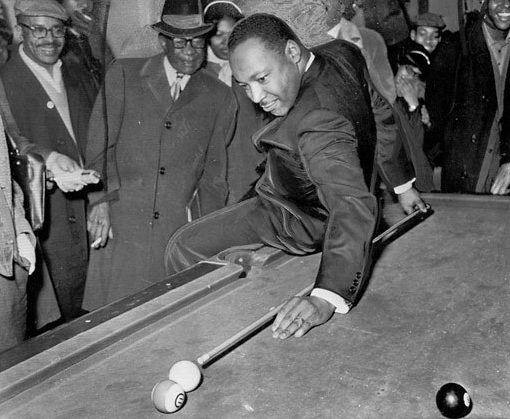 In honor of Monday's celebration of the legendary American Civil Rights leader, Brian Behnken, associate professor of history whose research interests include African American history and civil rights and social justice, compiled 7 lesser-known facts about Dr. Martin Luther King, Jr.
Celebrate Martin Luther King, Jr. Day in Ames at these events.
[feature_image]
7 Lesser-known facts about Dr. Martin Luther King, Jr.:
Martin Luther King, Jr.'s first name is really "Michael." He was named after his father, Michael King, Sr. "Daddy" King, as his father was known, evidently began using the name Martin Luther in reference to the German religious reformer. MLK began using the name as well, although neither man ever legally changed their names.

MLK was a billiards fanatic. He loved the game and played avidly for more than twenty years. According to civil rights lore, he used his skills to win the respect of local black people.

He skipped two grades… King was obviously a brilliant man, but he was so smart that he skipped two grades in high school, 9th and 12th, and began his college education when he was just shy of his 16th birthday. He received his bachelor's degree in sociology from Morehouse College when he was 19.
4.Yet his focus wasn't on a traditional education. Despite his intellectual gifts, King wandered through his education, only coming to the decision late in his college years to pursue the ministry. He seems to have wanted to avoid following in his father's footsteps…Daddy King was a very powerful and popular minister.
He loved Star Trek. King was a huge Star Trek fan. When he happened to meet actor Nichelle Nichols, who played Lt. Uhura, in Los Angeles in 1966, he was shocked to hear she was planning to leave the show. "You cannot do that," King stated. "For the first time, we are being seen the world over as we should be seen…do you understand that this is the only show that my wife Coretta and I will allow our little children to stay up and watch." He even referred to himself as a "Trekkie." Of course, Nichols remained with the show and played Lt. Uhura for the next four decades.

He was originally asked to lead because he was relatively unknown. King got his initial shot at leadership in the civil rights movement during the Montgomery Bus Boycott when he was asked to head the newly created Montgomery Improvement Association. He was chosen for the job not because he was well respected or a great orator, but because, as Rosa Parks stated, "The advantage of having Dr. King as president was that he was so new to Montgomery and to civil rights work that he hadn't been there long enough to make any strong friends or enemies."

He learned from the best: His parents. King learned to be an activist and a militant in many ways from his parents. His mother, Alberta King, always instilled in the young MLK that he was equal to anyone. His father did the same. In one instance, Martin Luther King, Sr., was pulled over by a white police officer, who referred to Daddy King as "boy." Pointing to his nine year old son, King Sr. stated "this is a boy. I'm a man, and until you call me one, I will not listen to you."