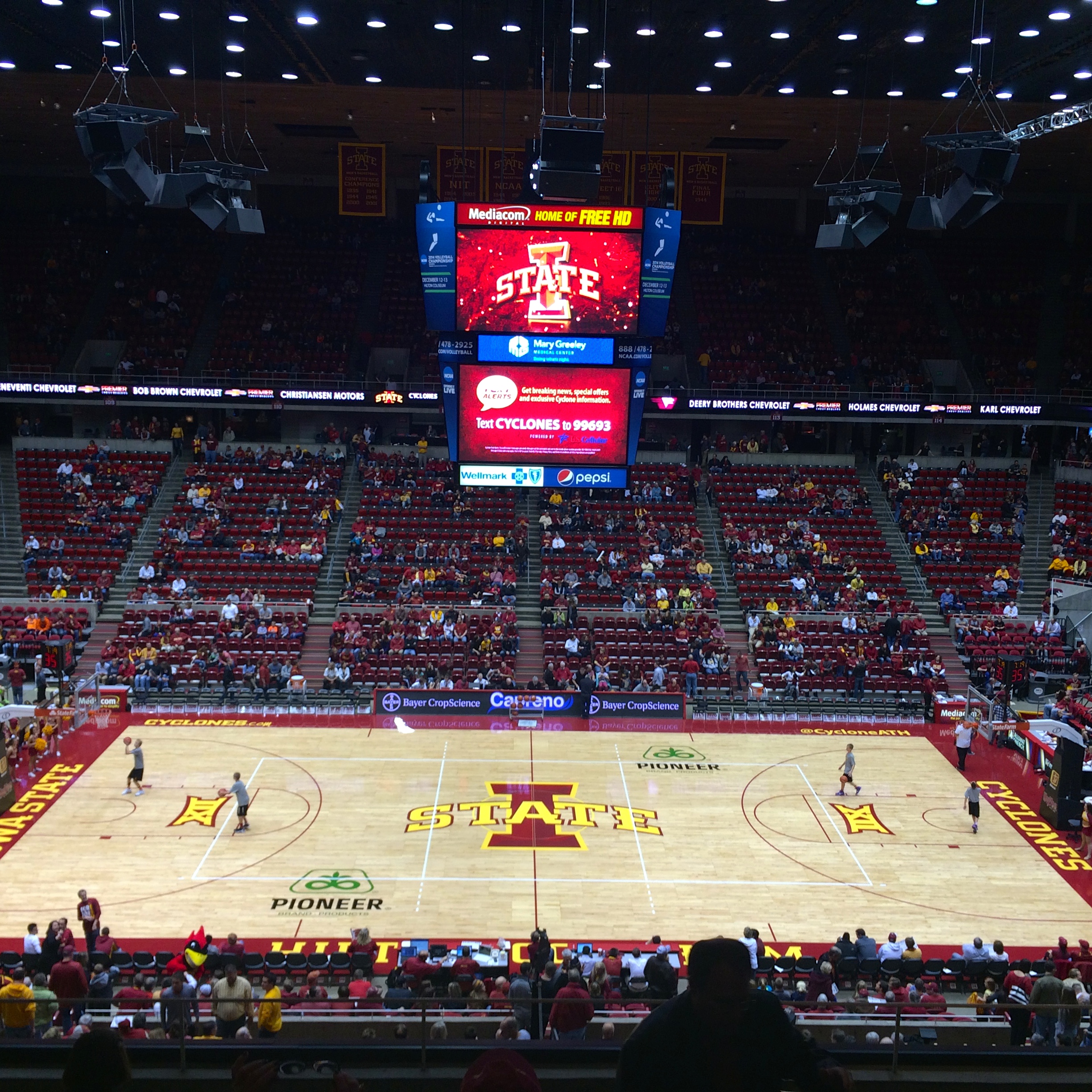 If you have never been to an Iowa State basketball game, or even stepped foot inside of Hilton Coliseum, please pay attention to these five reasons of why you should do so during your time at Iowa State University.
1.) Cyclone Alley You may be thinking of the area from Oklahoma to South Dakota, but it is really the official student section of Iowa State Basketball! Combining the enjoyment of seeing your face on the big screen, catching a free t-shirt, and distracting the opposing team to make them miss their free throw attempts, makes Cyclone Alley one of the best student sections in the Big 12 Conference.
2.) Clone Cone With many peoples' New Year's resolutions being to eat healthier, and it being below zero degrees outside, ice cream might not be the first thing on your mind. But when you see someone pass you with a towering cone or cup of red and yellow colored ice cream, it immediately sounds good. Experiencing what is called a "Clone Cone" is part of visiting Hilton Coliseum, and all the sugar can give you the burst of energy you need to cheer the team on to victory!
3.) The game Of course when you purchase a ticket for a men's or women's basketball game you know what you are going to experience: two halves of basketball with a halftime in the middle. At Iowa State though, we have a women's basketball team currently with a record of 11-3 under Coach Bill Fennelly, and under Coach Fred Hoiberg the men's basketball team is 12-2 so far for the season. Both teams are undefeated at home and there will continue to be amazing games at Hilton Coliseum this season unlike anywhere else.
4.) Hilton Magic No our coaches and players aren't trained in the magical arts, and they did not attend Hogwarts, but the atmosphere created by Iowa State fans has proven the existence of Hilton Magic season after season. With over 14,000 people cheering for Iowa State, you can feel the excitement in the air. Since opening in 1971, the coliseum has seen countless upsets and buzzer-beaters, which have helped to establish the magic that is known today.
5.) Now is the time! The excitement over Iowa State's basketball teams could not be higher. The women's team just beat third-ranked and previously undefeated Texas at home last Saturday while the men's team was away beating West Virginia. To top that, this Saturday Iowa State is hosting ESPN's "College Gameday," which will air before the men's rivalry game against Kansas that night. Now is the time to join Cyclone Alley, grab a Clone Cone, and create some Hilton Magic cheering on the Iowa State men's and women's basketball teams!
Posted by: Carly Crist