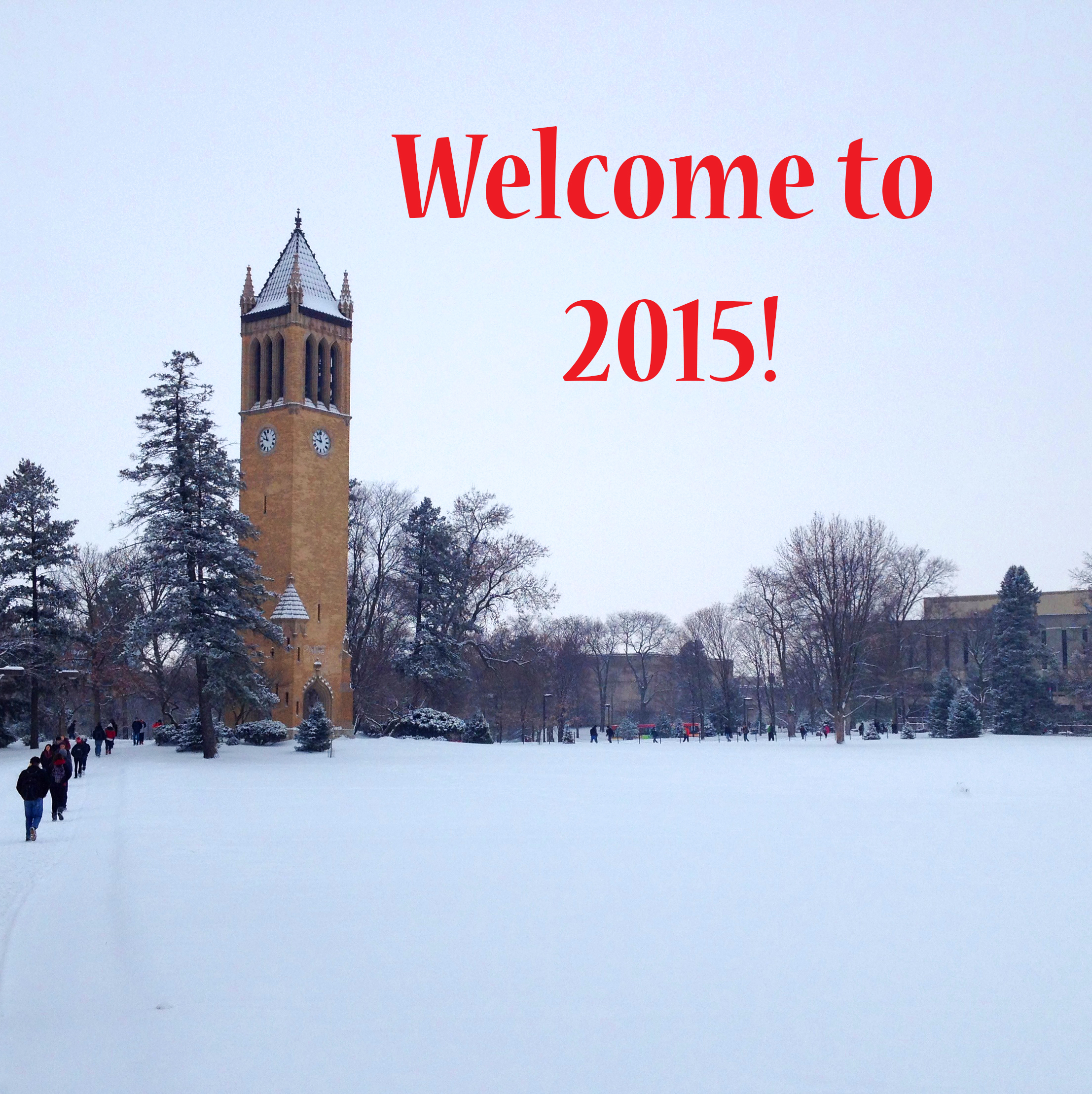 Welcome back from break!
Today is the first day of classes for the Spring 2015 semester, also commonly known as syllabus day.  Now, whether you're a freshman or senior, there is one thing you should know: a new semester equals a new start.
That's right, it's not only a new year, but also a new semester!  January is the time to create New Year's resolutions that may or may not be followed through.  January 12 is the day to create a new semester goal, one that you should strive to complete.
Every semester I have a habit of staying in the exact same place as where I was before.  Literally for the majority of my time at Iowa State, I have been involved in the exact same things each semester and have maintained the exact same GPA.
Last semester I made a change, I switched up my schedule and workload, I set a new focus, and I am proud to say that I finally accomplished one of my long time goals of making dean's list.
Now, it's your turn!
Whether it be to get better grades, get more involved, get in shape, get a job, or simply get socially active, this semester is the semester to start!
I challenge everyone to create a semester resolution for themselves as a challenge to do one thing either different or better than last semester.
To help you out, below are a few resolution suggestions and how you can get started!
The Academic Challenge: Disappointed with you last semester grades?  Wishing your GPA was just ever so slightly higher?  Then maybe this is the semester where your sole focus is school.  Set a personal goal for yourself, whether it be to make dean's list or to get the GPA you need for grad school applications.  Everyone knows students are in college to study, but that doesn't mean it's always easy.  So set your eyes on the prize and focus until you get there.  And don't be afraid to ask for help along the way!  To request a tutor, click here.
The Involvement Challenge:  Did you have too much extra time on your hands last semester?  Do you miss all the clubs you were a part of in high school?  Well here at Iowa State, it's never too late to join a club!  Whether it be something fun or something for your major, there is a campus organization out there for everyone.  To learn more about the clubs Iowa State has to offer, click here.
The Workout Challenge:  Did you fall prey to the freshman 15?  Or are you just not as active as you once were?  Have no fear, recreation services are everywhere!  The new schedule for fitness classes has been posted and provides a wide variety of workout classes at various times every day.  If you're like me, you hate walking to the gym in the cold, but fortunately there are a four recreation buildings located across campus, all along bus routes!  You (and I) now have no excuse, so go check out the fitness schedule here.
The Job Challenge: Has your wallet recently emptied due to a certain holiday season?  Are you looking for more work experience?  If yes, then it's a good thing Iowa State has so many job positions to be filled.  From office assistant to tutor to dining services, the opportunities are not only endless, but also accommodating.  All you need to do is apply.  To find out which job positions are still open, log-in to your AccessPlus account and click on 'Student Job Board' towards the bottom.
The Study Abroad Challenge: Do you find life in the Midwest to be extremely ordinary?  Do you want adventure in the great wide somewhere?  Well here's your chance to travel somewhere new and exciting!  The Study Abroad office is hosting a fair on Thursday, January 22 from 10:30 a.m. - 1:30 p.m. in the Great Hall of the Memorial Union.  Stop by during your lunch break and explore the possibility of studying in any country you choose.  Students will be there waiting to share their personal stories with anyone willing to listen and advisers will be on hand tell you all you need to know, you don't want to miss this!
The Social Challenge: Did you spend too much time last year on your couch watching Netflix?  Are you wishing you could spend more time with friends before graduation?  Luckily, Iowa State offers several FREE events and activities for it's students!  One of the most popular things campus has to offer is Cyclone Cinema.  A new semester means a new movie lineup, including Gone Girl, Mockingjay Part 1, the final film in the Hobbit trilogy, and much more!  Movies are featured every Thursday-Sunday at 7 and 10 p.m. in Carver 101.  For a full list of movies and dates, click here.
Now it's time to pick a semester resolution that's perfect for you and make a point of fulfilling that goal throughout the next five months.  I know you can do it!
Posted by: Jane Morrison