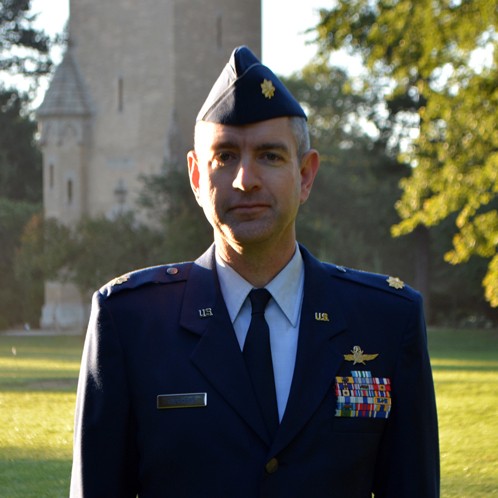 Major James Stephens, assistant professor of Air Force Aerospace Studies, has announced his retirement, effective January 1, 2015.
[feature_image]
Stephens enlisted in the Air Force February 1993. Ten years later, in August 2003, he was commissioned as a second Lieutenant through the Officer Training School program. Since then, he has received multiple awards including the Joint Service Commendation Medal, Air Force Commendation, and the Air Force Achievement Medal.
Iowa State University welcomed Stephens in August 2010 as an assistant professor of Aerospace Studies. Here he was responsible for the broad military education of cadets, building them into prepared and motivated commissioned second lieutenants.
Stephens cared immensely about students, as an active member of the Gold Star Hall Ceremony committee, he honored Iowa State students that gave their lives in service to our country. He has received many outstanding reviews and compliments from the students he has taught throughout his four years at Iowa State.
Lt. Col. Ryan Hollman, commander and professor of Air Force Aerospace Studies, said that Stephens helped set up the leadership foundation for the programs future officers that could serve up to the next thirty years or more in the Air Force.
"James was a tremendous asset to Air Force ROTC," said Hollman. "He will be greatly missed, but we wish him great success in the upcoming journeys of his life."
About Liberal Arts and Sciences The College of Liberal Arts and Sciences is a world-class learning and research community. Iowa State's most academically diverse college, LAS educates students to become global citizens, providing rigorous academic programs in the sciences, humanities and social sciences within a supportive personalized learning environment. College faculty design new materials, unravel biological structures, care for the environment, and explore social and behavioral issues. From fundamental research to technology transfer and artistic expression, the college supports people in its community and around the world.
NEWS RELEASE College of Liberal Arts and Sciences, Iowa State University
Contacts Ryan Hollman, Air Force Aerospace Studies (rhollman@iastate.edu) Kelsey Roehrich, Liberal Arts and Sciences Communications (roehrich@iastate.edu)