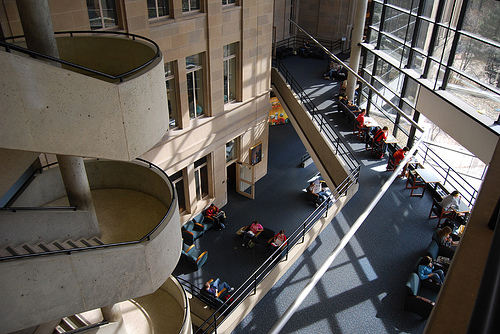 Congratulations!
You have survived what many believe to be the most grueling week of your academic career: midterm exams. The make or break of any and possibly all of your courses.
If you did not do as well as you had expected, don't throw in the towel just yet (trust me, I've been there). There may be hope for you yet! One of the biggest (if not, the most significant) thing to consider when preparing for midterms or any exam for that matter is having an adequate space for studying, or what I have deemed the "Study Sphere."
It might be a bit difficult to focus on the exam or quiz material with one roommate blaring Celine Dion's "My Heart Will Go On" while the other has suddenly taken up the kazoo. A bit of an exaggeration, but you get my point.  Some people are completely comfortable working in that type of environment and I applaud them on being superhuman, but if you're anything like me, it is almost impossible to be productive among all the chaos. The best solution I have found for avoiding distractions in my three years at Iowa State is maintaining an effective study sphere.
Parks Library
Possibly the number one place on campus to study—it offers a variety of resources from its extensive collection to the team of trained staff ready to assist you at the Help & Information Desk. There are also seven tiers, designated quiet areas, group study rooms for check-out, and research study rooms that make Parks Library an excellent study sphere for any and all students.
LeBaron Hall
Across the street from Parks Library, you will find a small hub for studying. There is access to computers and printing as well as an area for small groups to meet for studying or group work. It's particularly nice if you're trying to avoid overcrowding at the library.
Gerdin Business Building
My personal favorite—with Business Café only a few feet away, the commons and lounge areas throughout the first floor offers the perfect balance that makes for a clean and quite working environment. With access to three computer labs available for student use and interaction spaces that allow for not only individual but group work as well, Gerdin is a perfect space for academic learning.
Curtiss Commons
The Harl Commons in Curtiss Hall were recently renovated to create a great study sphere.  With its new comfy chairs, desks equipped with computers, and small café, the commons have become a more low-key version of the Gerdin Café.
The Hub
The Hub is always bustling with students grabbing lunch, catching up over caribou coffee, or studying at one of the many booths.  Since it is an atmosphere of constant noise, the Hub is a great place for studying with a group or over lunch, but not always ideal for those who need peace and quite to get work done.
Memorial Union
The Memorial Union, similar to the Hub, is always bustling with people and comes equipped with food to keep you going, but it is also home to several study spheres.  There are a few common areas on the main floor and a little known hidden library off of the food court that serve as great spots for studying.
An Empty Classroom
Almost every student has those short breaks in between classes.  Just enough time to get some work done, but not enough time to go traversing across campus to your favorite study sphere.  During these breaks, find an empty classroom and utilize the desks or take advantage of a chalkboard to get your homework done.
Your Major Building
Buildings that are home to your major or minor often have study rooms, common areas, or empty classrooms just waiting to be used.  And since the building also includes your major, it may offer resources on the subject you are studying.
Iowa State offers a myriad of places for study. Among them, you will find all the qualities you should come to expect out of an effective study environment: cleanliness, quiet, and resources. Ultimately, the environment in which you choose to study is up to you. Just remember, you do not have to limit yourself to one stationary desk and awesome swivel chair.
Posted by: Sylvina Walk