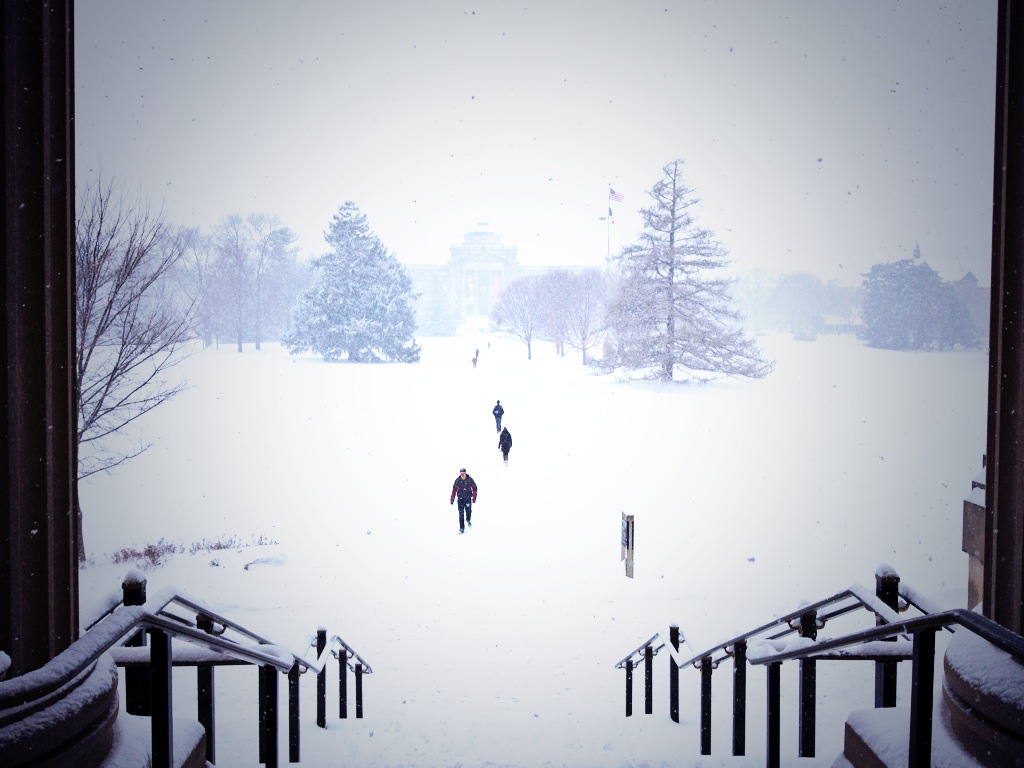 Central Campus from the steps of Curtiss

As the leaves fall off the trees and gather on the ground, the temperatures creep lower and lower. We are quickly approaching the winter months, and as a college student who has to walk between classes and even back home, the wind and the snow can really hit you. Even though I have lived in Iowa my whole life, I was still surprised at how unprepared I was for my first winter at Iowa State, so I can only imagine how students from southern areas might feel. Here's a list of three items I found necessary to own in order to survive the cold and still enjoy my walks around campus.

Knee-length coat and gaiter
A knee-length winter coat was one article of clothing I had seen being worn but always thought was too big, too bulky, and just too much. However when the end of the semester hit, it was only too important to keep my legs warm in the wind. With a down coat like this with a hood it will encompass you in warmth and cushion, which is also necessary if you slip and fall down (believe me, it will happen).

A neck gaiter, which I had to look up the name for, is a piece of fleece that goes around your neck and traps in your body heat. My favorite use of a neck gaiter however, is to pull it up to just under my eyes so my entire face can be protected from wind or frostbite.

Lastly, headphone earmuffs were a fun new purchase for me during my first winter at Iowa State. Like many students I enjoy listening to music on my way to class, but I ran into the dilemma of wanting my ears to be warm as well. Solution: earmuffs with speakers inside, and an audio cord to plug into any phone or iPod.
I know you might wonder why any girl or guy attempting to look somewhat decent on campus would wear these. The best part is that even though you might look like an Eskimo or like you are ready to go ice fishing, if you follow my techniques no one will even know who you are! But in all seriousness, winter is not a time to bundle up in your residence hall or apartment, it is another beautiful season on Iowa State's campus and a time to be outside and enjoy it, just without being too cold.
Posted by: Carly Crist