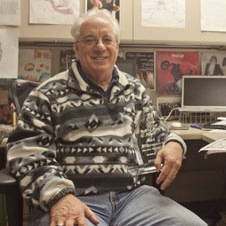 The following award announcement was written by College Media Association staff.
CMA's Louis Inglehard First Amendment Award: Mark Witherspoon
Mark Witherspoon has been either a journalist or a journalism instructor for 40 years. In 26 years of teaching at three universities, he has advised student newspapers, general interest and literary magazines and yearbooks and video yearbooks, all of which have won state and national awards.
[feature_image]
He graduated from the University of Texas at Austin with a bachelor's of journalism in 1975. He earned a master's degree in education, with an emphasis on First Amendment education, from Iowa State University in 2005.
Witherspoon worked at the Wichita Falls Record News and Forth Worth Star-Telegram as a reporter and editor until he moved to editorial adviser and adjunct professor at Texas Christian University in 1987. He began teaching and advising at Southern Methodist University in 1990. In 1999, Witherspoon moved to Iowa State University as the first official editorial adviser at the Iowa State Daily and a senior lecturer in the Greenlee School of Journalism.
While at SMU, he became vice president, then president, of College Media Advisers. During his presidency, the Advisers' Advocate program was initiated and the groundwork was laid for College Broadcasters Inc. to become a sister organization.
Witherspoon helped establish an annual First Amendment Day at Iowa State University in 2003; it became a week's celebration in 2005 and continues to this day. Witherspoon worked with CMA and the First Amendment Center to establish First Things First, a program that teaches advisers to become First Amendment Advocates.
Witherspoon has served CMA as chair or member of its Newspaper, Media Law, First Amendment, Election and Adviser Advocate committees and as past editor of Keeping Free Presses Free.
Publications he has advised have won ACP's Pacemaker, CSPA's Gold Crown and SPJ's Best Newspaper awards. He has won accolades from state, regoinal and national organizations, including CMA'a Multimedia Adviser of the Year Award, Colombia Scholastic Press Association's Gold Key Award, Iowa College Media Association's John Eighmey Award for Public Service and the Society of Collegiate Journalist's Louis Inglehart Award. In 2010, he was inducted into CMA'a Hall of Fame.