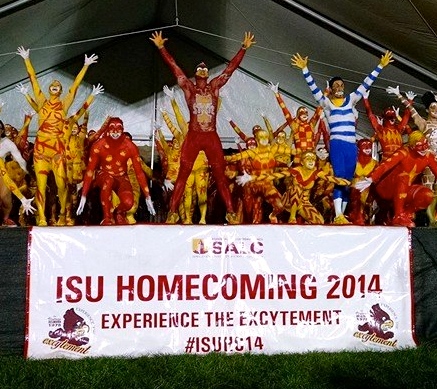 Homecoming is one of the best times on campus for various of reasons.  Here is a list of the top ten activities during Homecoming that are my personal favorites!
Tournaments
It doesn't matter if you are athletic or not, these tournaments showcase everyone!  This year some tournaments included volleyball, basketball, dodge ball, and broom ball.  Personally, I did not participate but it was really fun to see Greek members come out and cheer for their pairing along with residence halls putting teams together to celebrate Homecoming together!
Food on Campus
Food on Campus is located on central campus and highlights a lot of different restaurants in Ames.  This year there was Jeff's Pizza, Jimmy Johns, and Cupcake Emporium to name a few places.  Each meal is delicious and I get to eat lunch on central campus every single day!
 3. Movie Night
This year on central campus 22 Jump Street played allowing everyone to enjoy Homecoming all together.  It was a beautiful night and everyone that came out had a really great time!
 4. Banners
The Greek Community creates very large banners to line the sidewalks on central campus showing off their cyclone spirit!  The winning banner was in the shape of Cy and had a lot of different traditions that Iowa State Students enjoy as well as buildings on campus.  Also, residence halls and the seven different colleges created banners to show what they add to the university.  I enjoyed looking at each banner and seeing the theme in each.
 5. Late Night Pancake Feed
On Friday night on Central Campus, there was a mass pancake feed.  The pancakes are served for a very long time and allow for everyone to enjoy one last Homecoming meal before Homecoming is all over.
 6. Mass Campaniling and Fireworks
On Friday at midnight there are fireworks on central campus that are right above your head.  The fireworks get shot off right on central campus and they are so loud.  Plus, the fireworks light up all of the buildings in such a beautiful way.  If you go to Iowa State then you know about campaniling but there is only one way to go campaniling: mass campaniling during Homecoming.
 7. Lawn Displays
This takes place in the Greek Community and the pairings build very large sets that are used to showcase skits.  This year there was a Vegas theme, Cymanji, Back to the Future, and a pirate theme.  It was amazing to see what students could build in such a short amount of time.  Also, pairings could create lawn decks for the first time this year, which is a smaller version of lawn display.  These were really fun and the sets that they painted were very detailed and so appealing to look at.  The skits themselves highlighted Iowa State and our mascot, Cy.
 8. Alumni Return
Who doesn't love to see people who love Iowa State come back and share their love for Iowa State?
 9. Yell Like Hell
These five and a half minute skits are the coolest Homecoming tradition at Iowa State.  From the yelling to the chants to the stomp to the fight song, the skits showed off the different Greek pairings and their Iowa State pride.  Plus the painting that each pairing utilized during second and final cuts was super cool.  The pirates painting was my favorite because it was so unique and fit in their theme perfectly.
 10. The Football Game!
The Homecoming football game is one of my favorites because alumni are back, they recognize the Homecoming Central Committee that made Homecoming possible, and the atmosphere in Ames is so much better than at any other game.
There are so many reasons why Homecoming is great and these are my top ten reasons why I love Homecoming!
 Posted by: Kenzie Markland