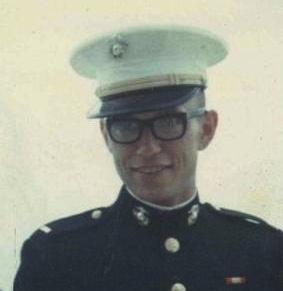 AMES – An economics alumnus has established a fellowship at Iowa State University to honor his college friend who was killed in Vietnam.
The Wayne W. Gross Graduate Fellowship was established "in honor of the sacrifice for our country," the donor, who has requested to remain anonymous, said in their statement of donor intent. The recipient will be a Ph.D. student in economics who is beginning their dissertation process.
[feature_image]
Gross was an Iowa farm boy who befriended the donor in graduate school at ISU. Gross earned a M.S. in economics from ISU in 1967, focusing on the cost of capital in agricultural markets. He entered Marine Corps Officers Training School and became a second lieutenant in 1968. After marrying his high school sweetheart, Leanne McFadden (family and consumer sciences, '66), Gross was deployed to South Vietnam in July 1968. He died in battle outside of Hue in Quang Tri Province on August 19, 1968. In 1969, the President of the United States awarded the Silver Star (posthumously) to Gross for "conspicuous gallantry and intrepidity in action" against the Viet Cong.
"The walls of Gold Star Hall in the Memorial Union bear the names of Iowa State men and women who died in our nation's wars," John Shroeter, professor and interim chair of the Department of Economics, said. "Now each time I walk through the Hall, I make a point of locating Wayne Gross's name. I think about a young man, an accomplished scholar with a bright future, who put his career on hold to serve his country, only to lose his life in that service. And I think about the donor who still carries the memory, now over 45 years later, of a brave friend who died too young. We in the Economics Department are deeply moved by the donor's decision to honor Wayne Gross in this way."
The fellowship will be of significant benefit to the recipient. One recipient will be awarded for the duration of three years.
-30-
About Liberal Arts and Sciences The College of Liberal Arts and Sciences is a world-class learning and research community. Iowa State's most academically diverse college, LAS educates students to become global citizens, providing rigorous academic programs in the sciences, humanities and social sciences within a supportive personalized learning environment. College faculty design new materials, unravel biological structures, care for the environment, and explore social and behavioral issues. From fundamental research to technology transfer and artistic expression, the college supports people in Iowa and around the world.
NEWS RELEASE College of Liberal Arts and Sciences, Iowa State University
Contacts: Eric Bentzinger, Development, ericb@iastate.edu; (515) 294-7490 John Schroeter, Economics, johns@iastate.edu; (515) 294-5876 Jess Guess, LAS Communications, jguess@iastate.edu; (515) 294-9906