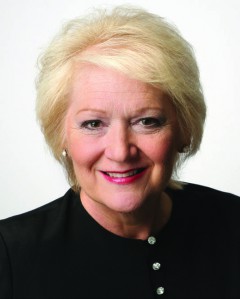 The Greenlee School of Journalism and Communication at Iowa State University now has a named PRSSA chapter.
The Barbara Riedesel Iverson Chapter of the Public Relations Student Society of America will provide students with additional funds for traveling, conferences, speakers and more that will strengthen the organization and bolster students' experiences in PRSSA.
[feature_image]
"I recognize and vigorously embrace public relations as an important degree program at Greenlee and as a growing profession in business, government, education and the non-profit world," Iverson said. "I want to support Greenlee's student chapter of PRSSA with this gift so that Greenlee PR majors can be better prepared to enter the profession upon graduation."
Iverson is the president of Weber Shandwick's financial services industry practice group. She works with Weber Shandwick offices around the world to provide service to well-known financial services clients including MasterCard Worldwide, the U.S. Department of the Treasury, Ernst & Young, U.S. Bank, the Federal Reserve Bank, and the Internal Revenue Service.
Iverson has 32 years of communications management experience in business, government and education. Since joining Weber Shandwick in 1996, her work has involved strategic and integrated communications planning, and reputation and brand management. She earned her bachelor's degree in journalism from Iowa State University.
Greenlee's PRSSA chapter currently has about 60 members with backgrounds in diverse majors. They use PRSSA as an opportunity to practice public relations through various competitions and service projects. It is now one of the few named chapters in the United States.
Erin Wilgenbusch, public relations lecturer and PRSSA adviser, said Iverson has been a great supporter of the Greenlee School. Three years ago, Iverson joined the Greenlee School's Advisory Board and became active in guiding its PRSSA chapter.
"We really turned a corner last year when our president at the time, Haley Sitz, interned with Barb at Weber Shandwick," Wilgenbusch said. "When Haley saw how ISU and Greenlee are regarded by professional communicators, she realized there is a lot of pride in being a Cyclone. That Barb showed a lot of respect to Haley for being a Greenlee student and Haley came back to school with a lot of energy to make our PRSSA chapter a great chapter."
"Barbara Iverson has played a critical role in the immense success of our new public relations degree," Michael Bugeja, Director of the Greenlee School, said. "She has done so much in so many venues, from helping recruit new majors to building a brand for the Greenlee School. This latest contribution—an endowment providing funds for members of our award-winning chapter of the Public Relations Student Society of America—not only is testament to her generosity but also to her commitment to her alma mater."
Wilgenbusch said Iverson's gift is representative of the family atmosphere that surrounds Greenlee.
"This really shows how we support one another," she said. "Barb is taking care of our students and in the long term, our students will have the advantage of her generosity for years to come. This isn't just a bonus, it will provide a lot of stability for a very long time."
About Liberal Arts and Sciences The College of Liberal Arts and Sciences is a world-class learning and research community. Iowa State's most academically diverse college, LAS educates students to become global citizens, providing rigorous academic programs in the sciences, humanities and social sciences within a supportive personalized learning environment. College faculty design new materials, unravel biological structures, care for the environment, and explore social and behavioral issues. From fundamental research to technology transfer and artistic expression, the college supports people in Iowa and around the world.
NEWS RELEASE College of Liberal Arts and Sciences, Iowa State University
Contacts: Erin Wilgenbusch, Public Relations, eew@iastate.edu Michael Bugeja, Greenlee School of Journalism and Communication, bugeja@iastate.edu Jess Guess, Liberal Arts and Sciences Communications, jguess@iastate.edu