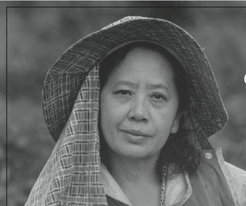 In March 2013, Iowa Poet Laureate Mary Swander, Pulitzer Prize-winning photographer Dennis Chamberlin, and Matt Foss put together a small play that's made a big impact.
Foss, who was an ISU theatre department lecturer at the time and is now teaching at the University of Idaho, was the director of "Vang," a two-person play about immigrant farmers. "Vang," which translates to "garden" or "farm" in Hmong, captures the challenges and experiences of Dutch, Hmong, Mexican and Sudanese farmers who have journeyed to the United States and are striving to return to the land.
[feature_image]
"We are trying to raise awareness about the issues these immigrants face," Swander said. "The number of farmers in the United States is declining, and while we need to encourage young farmers to return to farming, we need to encourage diversity as well."
Swander said many immigrants come to the U.S. with farming backgrounds, yet they can't get back to farming once they are settled here. The culture shock is a huge issue. Marketing and networking are extremely difficult. And the language barrier can be tall and wide – there is no written language in Hmong, they record their history through embroidery.
Then, there is the land and resource issue.
"Farm ground here – especially in the Midwest – is very expensive and difficult to come by," Swander said. "It certainly doesn't get easier for an immigrant farmer to carve out a piece of land for himself."
The play, which debuted in March last year and has been touring the country since, tells the story of four families who are making farming work for them in the States. It debunks the myth that all immigrants are illegal (all families profiled are legal immigrants), and shows the interaction between cultures and ethnicities.
Swander and Chamberlin spent three years researching for this production. They traveled the country, interviewed families, took thousands of photos and wove together a story that could be told with just two actors. The actors rotate based on where the show is playing, but ISU grads Elizabeth Thompson and Ethan Peterson will perform at the a2ru Conference in November.
"We are so thrilled with how this has turned out," Swander said. "It is such a great visual story that is loaded with information. Our audiences have really enjoyed it."
"Vang" has been performed all over the United States in venues in mid-sized cities. It was performed in Postville, IA, where a meat packing plant had been recently raided for illegal immigrant workers. It is performed on college universities in the United States and Canada.
"This project has garnered community support in so many ways," Swander said. "We are looking forward to our next steps in promoting the play and further documenting our time spent with each family."
About Liberal Arts and Sciences The College of Liberal Arts and Sciences is a world-class learning and research community. Iowa State's most academically diverse college, LAS educates students to become global citizens, providing rigorous academic programs in the sciences, humanities and social sciences within a supportive personalized learning environment. College faculty design new materials, unravel biological structures, care for the environment, and explore social and behavioral issues. From fundamental research to technology transfer and artistic expression, the college supports people in Iowa and around the world.
See the play at the Arts in Research Universities National Conference: Wednesday, Nov. 5 7:30 p.m. Parks Library Iowa State University Ames, IA
NEWS RELEASE College of Liberal Arts and Sciences, Iowa State University
Contacts: Mary Swander, English, mswander@iastate.edu Jess Guess, Liberal Arts and Sciences Communications, (515) 294-9906 (jguess@iastate.edu)