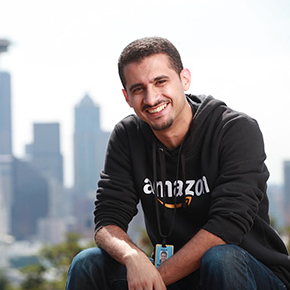 [autop]
When Mohammed (MS '07 computer science) went to work for Amazon.com in 2007, he was one of about 17,000 employees. Today, he's one of nearly 100,000 worldwide – but still finds a way to stand out from the crowd.
[feature_image]

Eight patents are displayed in his Seattle office, and he has two more pending. He's worked with products including Mechanical Turk, a crowd-sourcing Internet marketplace; Amazon Local, a daily deals service; and Amazon's online advertising platform. He's currently a member of Amazon's Elastic Compute Cloud (EC2) team. 

Mohammed grew up in Egypt and Jordan and came to the United States when he was 17. He has an undergraduate degree from the College at Brockport. Mohammed is currently featured as a representative of the state of Washington in the ISU Alumni Association's "VISIONS Across America" magazine and art exhibition project.
Mohammed on…
…his favorite ISU tradition: "VEISHEA"
…his favorite app: "Yahoo! Finance"
…his favorite words of wisdom: "Nothing that is worth having comes easy."
…his life ambition: "I want to retire in a third world country and start a charity fighting poverty and providing quality education to children."
This story was originally posted by the Iowa State University Alumni Association. Iowa STATEment Makers is a recognition program of the Iowa State University Alumni Association's Young Alumni Council, honoring graduates of the past 10 years who have made strong statements in careers, entrepreneurial endeavors, academics, community service, or personal achievements. Visit the Alumni Association for all of 2014's Iowa STATEment Makers.
[/autop]
[feature_footer read_more="alumni"]