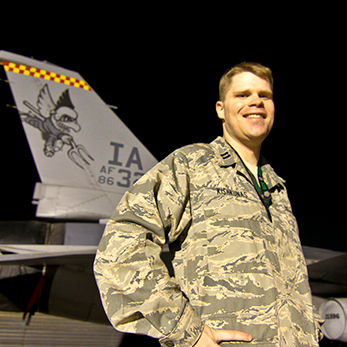 [autop]
Louis ('06 political science) is a senior project manager at the Noble Network of Charter Schools – the highest performing charter organization in Chicago – and won an "Extra Miler" award for his service to the organization over the last six months. 

[feature_image]

Prior to his current position, he was a decorated service member in U.S. Air Force, where he was selected to the highly competitive intelligence division of the U.S. Air Force Weapons School – one of the most demanding courses in the Department of Defense, and won the Mission Support Award as the top-rated student in his class. 

He was deployed twice to Afghanistan, where he earned two Air Force Commendation Medals and two NATO Afghanistan Medals. He led the intelligence plans for the defense of the two largest bases in Afghanistan – protecting more than $5 billion in assets and 50,000 people. He was also selected to teach intelligence and mission planning techniques in the United Arab Emirates and has authored two classified papers for the Air Force. He earned a master's in public administration and policy at Northwestern University.
Louis on…
…his favorite ISU tradition: "VEISHEA – hands down, especially the way we brought it back during my senior year in 2006…the music and other events that were moved back to campus, the parade, the cherry pies – it's just a great celebration of all that ISU has to offer."
…his guilty pleasure: "The Cookie Dough Donut from Dunkin Donuts – it's the best, worst thing ever."
…his role model: "My first commander, Lt. Col. Tim West. He is a great mentor and example to me. He really took care of all of us but was constantly pushing us to be better officers and people. If I can develop half the tenacity that he has, I'll end up doing very well."
…what would make the world a better place: "If we thought the best of people more than thinking the worst. We live in a really polarized world and tend to cast opposing views as villainous, stupid, etc., rather than trying to understand that other side."
This story was originally posted by the Iowa State University Alumni Association. Iowa STATEment Makers is a recognition program of the Iowa State University Alumni Association's Young Alumni Council, honoring graduates of the past 10 years who have made strong statements in careers, entrepreneurial endeavors, academics, community service, or personal achievements. Visit the Alumni Association for all of 2014's Iowa STATEment Makers.
[/autop]
[feature_footer read_more="alumni"]