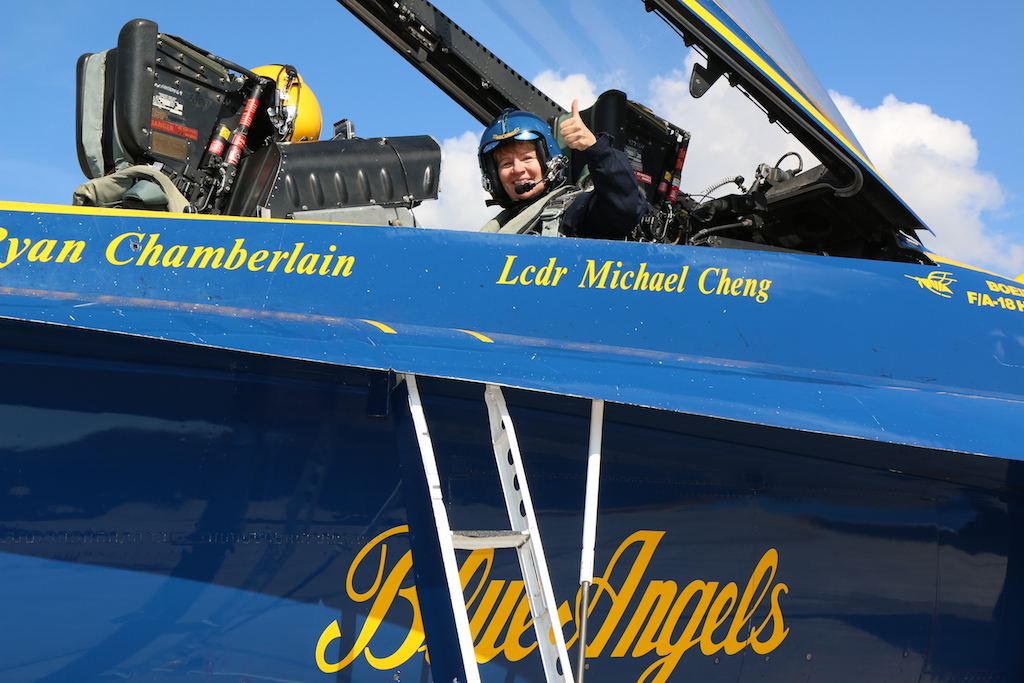 It's been called the ride of a lifetime. And after 45 minutes in a jet fighter cockpit, Beate Schmittmann won't disagree.
The Liberal Arts and Sciences dean was chosen to ride along in a U.S. Navy Blue Angels jet on Wednesday (July 16) from Offutt Air Force Base near Omaha. The Blue Angels are the Navy's flight demonstration squadron known for their high-speed aerobatics at air shows across the country.
"It was something you don't experience anywhere else," Beate said immediately after the ride.
In addition to the thrill of flying at nearly the speed of sound, Beate agreed to the flight as a way to bring positive attention to LAS and encourage more men and women to join ISU's Navy ROTC Cyclone Battalion, which is part of the college.
The flight wasn't a Sunday country drive. The pilot, Lt. Ryan Chamberlain, took Beate on fast rolls, sharp turns and steep climbs. They flew upside down and she experienced weightlessness. It was all to show what the Blue Angels do in their F/A-18 Hornets. It's the jerk-and-jolt taxi times 10, and most first-time riders need time to settle their stomachs after landing.
"I enjoyed the slow rolls and the upside down flight, and the acceleration at the very beginning was just awesome," she said. "But it was challenging." Lt. Chamberlain supported her the whole way by telling her what to expect and what to do to lessen the effects of her 6-g turns, which can cause some to momentarily pass out.
Beate and Joe Mlarnik, a guidance counselor at Omaha's Millard South High, exited their flights a bit pale, but both bounced back quickly. It's not the case for everyone. A Naval officer told us Wednesday about a current NFL player who was so ill after a recent flight that he disappeared for 45 minutes.
The Blue Angels were in Omaha to perform at Offutt's big air show July 19-20. The Blues give two backseat flights at each show location to "key influencers" – individuals (often educators) who "shape attitudes and opinions" of young people. Another flight goes to a member of the news media. On Wednesday it went to Omaha TV news anchor John Knicely, who did a nice WOWT-TV news story on Beate and Mlarnik's flights before he donned a helmet for his own ride.
Beate loved the flight. "This has been a wish of mine for many years," she said. She did her pre-flight homework by talking to pilot Dan "Chilli" Buhr of Naval ROTC unit and to Jonathan Wickert, ISU senior vice president and provost who took his own Blue Angels ride earlier this year. She and the other two Omaha riders listened intently to briefings by the pilot and the crew chief.
"The whole experience was incredible," she said.
Would I have liked to have ridden with the Blues? Of course. But for someone who can't even handle the teacups ride at Adventureland, don't even think about it. – Steve Jones