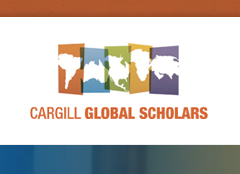 Cargill and the Institute of International Education have chosen three Iowa State University students, including two from the College of Liberal Arts and Sciences, as Cargill Global Scholars for the 2014-2015 academic year.
The College of LAS students are Hieu Nguyen, who is majoring in economics, mathematics and finance and is from Cottage Grove, Minn., and Lissandra Villa, a journalism and political science major from Webster City. The third ISU student is Augustine Villa, a chemical engineering student.
The Cargill Global Scholars Program is in its second year. Two ISU students were chosen in 2013. "Here's a fun fact," Lissandra Villa said. "All of the Iowa State students that have been chosen as scholars are ISU President's Leadership Class alumni – five total."
The program is for undergraduate students from the United States, Brazil, Russia, India and China who demonstrate academic achievement, leadership potential and study in a field relevant to Cargill's world of food, agriculture and risk management.
As Cargill Global Scholars, these students will join a global network of high performing undergraduate students, who through this program will be given the opportunity to develop leadership competencies through training modules, mentoring and coaching by Cargill employees, as well as learning and networking opportunities with Cargill businesses.
Cargill is an international producer and marketer of food, agricultural, financial and industrial products and services. The Institute of International Education is a not-for-profit organization in the field of international education and scholarship management, and has worked extensively in areas of leadership development. -30-
NEWS RELEASE College of Liberal Arts and Sciences, Iowa State University
Contact: Steve Jones, Liberal Arts and Sciences Communications, (515) 294-0461, jones@iastate.edu