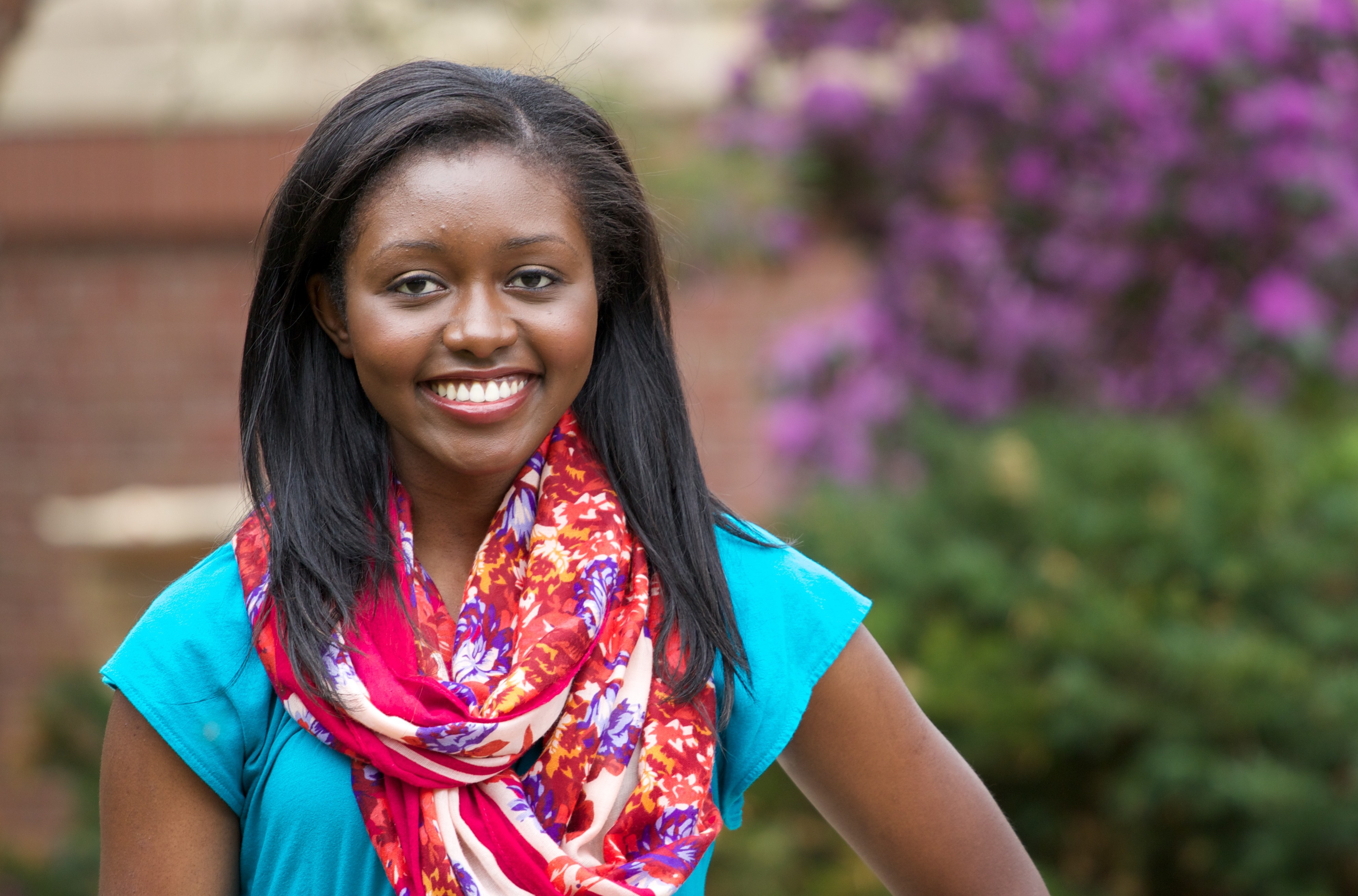 In Diane Fru's family, medicine reigns. Virtually all of her immediate family – including both of her parents and her three older siblings – are in the medical field. So it makes sense that she, too, is headed for healthcare.
She also has a passion for teaching, and later this summer she'll have a unique opportunity to combine both passions in Taiwan.
At the end of July, Fru will leave for Taichung, a suburban city in Taiwan, to teach English to grade school students for 11 months. This opportunity comes from the Fulbright Foundation for Scholarly Exchange.
[feature_image]
Fru, a senior in psychology, is a brand new graduate from the College of Liberal Arts and Sciences. Although accepted to medical school at the University of Illinois at Urbana-Champaign, she has deferred that pursuit for this adventure.
"My sister suggested I look into the program," Fru said. "I knew I wanted to travel, especially to countries with cultures I am not familiar with. This was a perfect fit."
Fru researched several countries and opportunities within the Fulbright Foundation before choosing Taiwan – a thoughtful, meticulous process. Two of the (many) reasons she chose the country were the program did not require her to speak Mandarin, the language of Taiwan, and there were no additional required components, such as volunteering for a specific organization.
Fru has other plans for her free time.
"I want to incorporate teaching into healthcare, so I'd like to introduce a healthcare program for children and adults," she said. "Since there is no additional 'required' component in the program, I can do this because I want to do this."
Fru plans to become a pediatrician, so this will be a great opportunity to work with kids. She plans to lead a healthcare program after school that teaches the basics – hygiene, eating healthy foods, how to care for minor scrapes. She wants to program to be "enjoyable and energetic" to keep the children engaged.
In addition to the youth program, she also intends to create another program for adults, perhaps in surrounding rural areas.
"When it is hard for someone to get to a place that offers adequate healthcare, it's hard to convince them to go at all," Fru said. "You can never be too educated when it comes to understanding your health. These programs would be a great way to articulate that knowledge."
Understanding education's role in success
Fru was born in Cameroon, an African country that borders Nigeria to the south. Her family immigrated to the United States when she was seven years old. Both her parents are nurses and her three older siblings are also in the healthcare field.
"Education has played a crucial role in my family," she said. "I can see how much of a difference an education can make."
While majoring in psychology, Fru was a teaching assistant for Psychology 101. She also helped teach the seminar instruction course in the First-Year Honors Program. There, she developed her interest in teaching.
With her minor in biology, she was a research assistant in the Department of Genetics, Developmental and Cell Biology. She was also involved with the Ames chapter of Society for Neuroscience. Especially during her research opportunity, she stayed on track to pursing, and ultimately being accepted to, medical school.
In addition to her classwork, teaching and research, Fru was involved in the Cardinal Key Honor Society, Dance Marathon, the Government of the Student Body, Pre-Medicine Club, Hip-Hop Dance Club (DubH), Women's Ultimate Frisbee and the African Student Association. She has been a learning community peer mentor in psychology and a student admissions representative for the Office of Admissions.
Fru interned for the University of Massachusetts Medical School's Howard Hughes Medical Institute Exceptional Research Opportunities Program for two summers.
Seeing value in waiting
Although she is deferring medical school for a year, she knows her year "off" will be invaluable. She said the 11 months she'll spend in Taiwan will not only benefit the children she teaches, but also herself.
"This will give me the power to take more control of my career in healthcare, and will give me more to offer my patients and my community," she said. "You can only know so much about your future – there are many twists and turns. You just have to learn to embrace it and take advantage of everything you can in the present."
About Liberal Arts and Sciences The College of Liberal Arts and Sciences is a world-class learning and research community. Iowa State's most academically diverse college, LAS educates students to become global citizens, providing rigorous academic programs in the sciences, humanities and social sciences within a supportive personalized learning environment. College faculty design new materials, unravel biological structures, care for the environment, and explore social and behavioral issues. From fundamental research to technology transfer and artistic expression, the college supports people in Iowa and around the world.
NEWS RELEASE College of Liberal Arts and Sciences, Iowa State University
Contacts: Diane Fru, Psychology, dnfru@iastate.edu Jess Guess, Liberal Arts and Sciences Communications, (515) 294-9906, jguess@iastate.edu