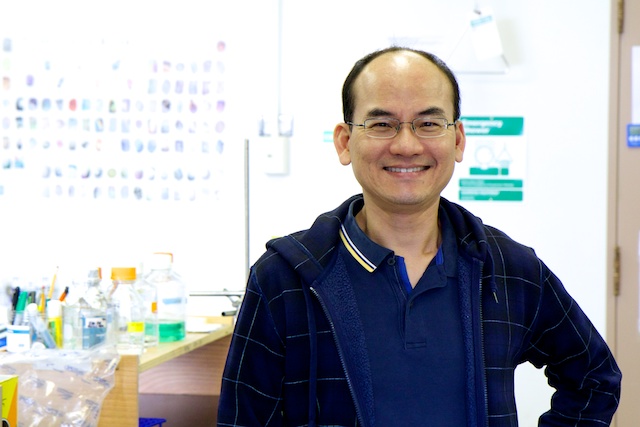 Antibiotic resistance is a serious and growing phenomenon in contemporary medicine. When bacteria in human cells become drug-resistant, our standard antibiotics can have detrimental effects, sometimes leading to infection, disease, and even death.
Research led by Edward Yu could lead to new strategies for fighting bacterial infections in human cells. Yu, a professor of chemistry and of physics and astronomy at Iowa State University and an associate at the Department of Energy's Ames Laboratory, uses X-ray crystallography to study the structure and function of membrane proteins and how they work inside human cells. His research could reveal how pathogens take over a patient's cells and cause infection, thus leading to the development of new drugs to treat bacteria.
[feature_image]
This revolutionary research inspired the Department of Chemistry to award Edward Yu with the John D. Corbett Professorship, which will allow Yu to expand his research career at Iowa State.
"Ed Yu is a dynamic scientist in the area of structural biology," William Jenks, professor and chair of chemistry, said. "His work is exemplary of modern cross-disciplinary research and fits perfectly into one of the LAS College's Signature Themes.
"The professorship will allow him to move into some new directions without having to have the kinds of preliminary results required to obtain typical federal funding. It's almost like a startup package for a new professor, except Ed has already proven that he is fully capable of breaking new ground."
The late John Corbett was a Distinguished Professor in Liberal Arts and Sciences, a professor of chemistry and former department chair for the Department of Chemistry. His long association with the U.S. Department of Energy's Ames Laboratory included several years as Chemistry Division chief and program director for Materials Chemistry.
Corbett established the Corbett Professorship in Chemistry to award outstanding faculty members. It will afford Yu with significant resources for three years to expand his important research. Funds are often used to support students, purchase additional equipment and supplies, and attend professional meetings.
"Thanks to named faculty positions such as the Corbett Professorship, our most innovative and creative faculty members can explore high-risk, high-impact new ideas long before federal funding agencies are ready to support such work," said Beate Schmittmann, Dean of the College of Liberal Arts and Sciences. This is the greatest way to do science at a major research university."
"This is a very prestigious professorship," Yu said. "This support empowers me to expand my research program by studying more human cells, which is expensive to do because they are less stable and therefore more difficult to study."
Yu's research could lead to revelations in cancer research and other health-related issues.
Patricia Thiel, Distinguished Professor in Liberal Arts and Sciences, Mei Hong, professor of chemistry, and the late Victor Lin are previous holders of the Corbett Professorship. Chemistry is an academic unit in the College of Liberal Arts and Sciences.
About Liberal Arts and Sciences The College of Liberal Arts and Sciences is a world-class learning and research community. Iowa State's most academically diverse college, LAS educates students to become global citizens, providing rigorous academic programs in the sciences, humanities and social sciences within a supportive personalized learning environment. College faculty design new materials, unravel biological structures, care for the environment, and explore social and behavioral issues. From fundamental research to technology transfer and artistic expression, the college supports people in Iowa and around the world.
NEWS RELEASE College of Liberal Arts and Sciences, Iowa State University
Contacts: Edward Yu, Chemistry, Physics and Astronomy, (515) 294-4955, ewyu@iastate.edu Jess Guess, Liberal Arts and Sciences Communication, (515) 294-9906, jguess@iastate.edu