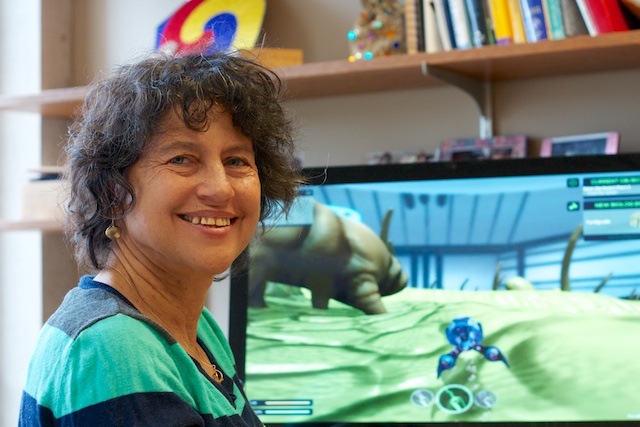 It is 2051. Our earth's ecosystem is reverberating as some unknown pathogen decimates plant life. A team of expert scientists has inexplicably disappeared while investigating the cause. Can you rescue the lost team, discover what is killing the plants, and save the world?
This is the world of Meta!Blast, a computer game that recently earned the People's Choice Award in the 2013 International Science and Engineering Visualization Challenge. The game is directed by Eve Syrkin Wurtele, professor in the Department of Genetics, Development and Cell Biology, and a multidisciplinary team. Its objective is to engage undergraduate students in fundamental concepts of biology. It was also featured in Science magazine. Committee members from the National Science Foundation and Science screened 227 entries from 12 countries.
[feature_image]
"The biology and chemistry in the game is as accurate as we are able," Wurtele said. "We are active researchers in a fast moving field, and we continually add new discoveries, information, and gameplay."
Diane Bassham, Loomis Professor of Plant Physiology in the Department of Genetics, Development and Cell Biology and the game's cell biology lead, said "the dynamic cell environment of MB captures students' imaginations and allows them to interact with the cell to solve problems, learning cell biology as they do so."
Meta!Blast is a real-time 3D game. Adventures lead the player to shrink to microscopic size, traverse a leaf surface, rescue a tardigrade, zap nematodes, sneak into the leaf through an open stomata, and shrink further to enter a photosynthetic cell and its organelles. Along the way, the player must solve problems and answer questions about cell and metabolic biology.
"Undergraduates of today grew up in a technology-rich setting. Digital games provide a natural way for students to interact, enhance their decision-making ability, and promote learning of complex science concepts," Wurtele said. "Meta!Blast provides a context to make biology more engaging and fun. Plus, it's very beautiful."
The game is designed to complement books and classroom instruction, not to replace them.
Wurtele, Bassham, and other faculty in the biological and physical sciences drive the content of the game. As Meta!Blast is developed, emerging computational capabilities are used to enhance the interactivity and the virtual 3D environment. Developers are trained in art, computer science, and human computer interaction; all are current or recent ISU students. Undergraduates, such as this semester's crop of Honors freshman, develop new ideas for gameplay and work with the Meta!Blast team to implement them.
The Meta!Blast game is developed with major support from the Science Education Partnership (SEPA) at the National Institutes of Health, and from The National Science Foundation, Center for Biorenewable Chemicals, and Iowa State University's Center for Metabolic Biology, College of Liberal Arts and Sciences, and Department of Genetics, Development and Cell Biology.
About Liberal Arts and Sciences The College of Liberal Arts and Sciences is a world-class learning and research community. Iowa State's most academically diverse college, LAS educates students to become global citizens, providing rigorous academic programs in the sciences, humanities and social sciences within a supportive personalized learning environment. College faculty design new materials, unravel biological structures, care for the environment, and explore social and behavioral issues. From fundamental research to technology transfer and artistic expression, the college supports people in its community and around the world.
NEWS RELEASE College of Liberal Arts and Sciences, 
Iowa State University
Contacts: Eve Syrkin Wurtele, Genetics, Development and Cell Biology, (515) 294-8989, mash@iastate.edu Jess Guess, Liberal Arts and Sciences Communications, (515) 294-9906, jguess@iastate.edu