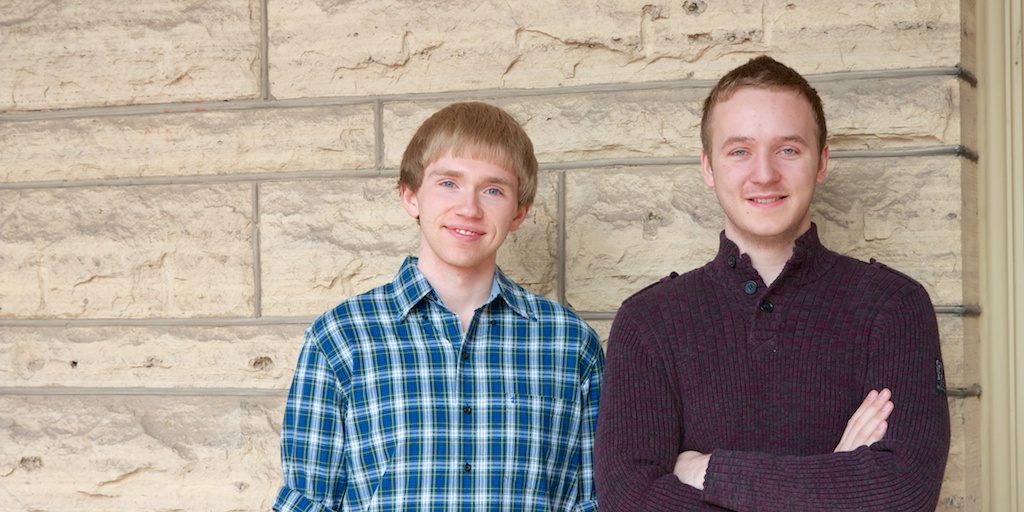 Four Iowa State University Honors students have received Goldwater Scholarships – a competitive award that is considered a premier undergraduate scholarship in mathematics, natural sciences and engineering.
Thomas Knief and William "Robin" Lindemann, both in the College of Liberal Arts and Sciences, are two of the recipients. Lindemann, a senior in materials science engineering and mathematics, plans to pursue a career in ceramics. Knief, a senior in physics, plans to conduct research in materials science.
[feature_image]
Lindemann said math didn't always come easy to him but he saw the value in studying it.
"I knew I wanted to study science in college and math is an important part of learning science," he said. "But in high school I struggled with math. I studied for four hours everyday after school. I worked hard because I wanted to be better."
Lindemann's hard work paid off, and he started his freshman year at Iowa State University as an honors student. Not long after, he joined a "supportive, collaborative" group of physicists to study organic solar cells – a research group he is still an integral part of.
Knief, a senior in physics, plans to pursue a Ph.D. in condensed matter physics and hopes to conduct research at a national lab, such as the Ames Laboratory.
"I love physics because there are so many questions and so many ways to answer them," Knief said. "That's why I like materials science: I have a passion for the environment and am interested in issues such as global warming. Exploring materials that can help produce cleaner and more efficient sources of energy is an active research field that I am excited to be a part of."
A selective selection process
Each year, universities may nominate up to four candidates for the national competition. ISU's candidates are first selected through an on-campus competition. Iowa State's Honors Program coordinates nominations and applications.
This is the first time Iowa State University has had all four candidates earn Goldwater Scholarships. In a previous interview with Dana Schumacher, Honors Program assistant director for scholarship and research, Schumacher said this "demonstrates the quality of ISU's academic programs and the university's dedication to undergraduate research."
"This is such an honor," Knief said. "It really mattered to me that I had such great support within our Honors Program. They were really hoping for my success. It's a great honor and shows a payoff for all the hard work that I put into my academic career."
The Barry Goldwater Scholarship and Excellence in Education Foundation is a federally endowed agency established in 1986. The scholarship program honoring Senator Barry Goldwater was designed to foster and encourage outstanding students to pursue research career in the fields of mathematics, natural sciences and engineering.
The one- and two-year scholarships will cover the cost of tuition fess, books and room and board for up to a maximum of $7,500 per year. The final two Goldwater Scholars are Jacob Harry, a senior in aerospace engineering, and Rachel Philiph, a senior in materials science engineering.
The Iowa State News Service contributed to this story.
Read more about Robin Lindemann's work at the Ames Laboratory.
About Liberal Arts and Sciences The College of Liberal Arts and Sciences is a world-class learning and research community. Iowa State's most academically diverse college, LAS educates students to become global citizens, providing rigorous academic programs in the sciences, humanities and social sciences within a supportive personalized learning environment. College faculty design new materials, unravel biological structures, care for the environment, and explore social and behavioral issues. From fundamental research to technology transfer and artistic expression, the college supports people in its community and around the world.
NEWS RELEASE College of Liberal Arts and Sciences, 
Iowa State University
Contacts: Jess Guess, Liberal Arts and Sciences Communications, (515) 294-9906, jguess@iastate.edu