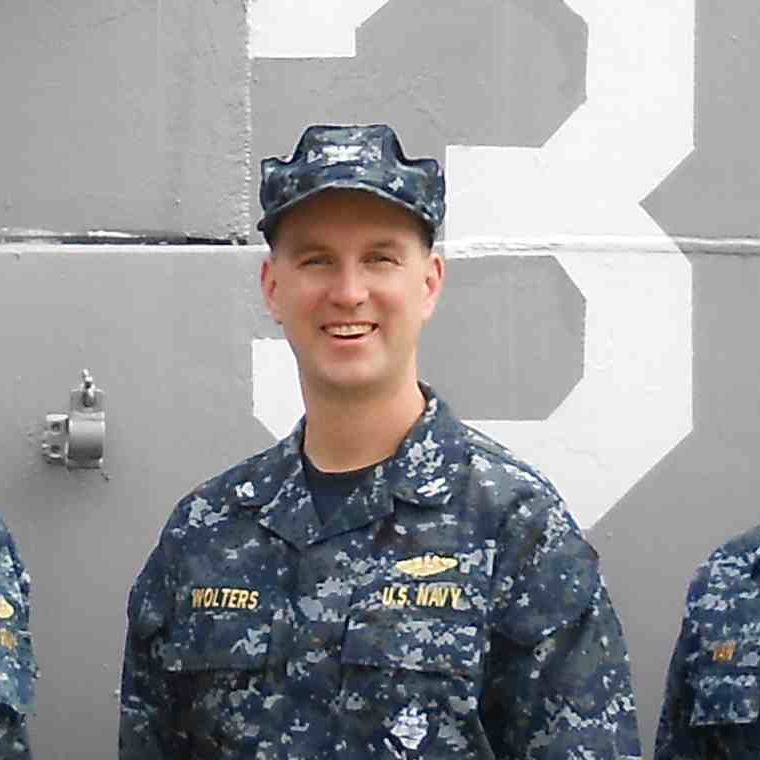 Timothy Wolters has authored his first book as a historian, and his experience as Captain Wolters, U.S. Navy, afforded him an "invaluable perspective" for completing the book.
Wolters, assistant professor of history at Iowa State University, has been an active reservist in the United States Navy for more than 16 years. He is the author of "Information at Sea: Shipboard Command and Control in the U.S. Navy, from Mobile Bay to Okinawa," a new book that investigates the history of the combat information center and other command and control systems utilized by American warships. Johns Hopkins University Press was the publisher.

[feature_image]

Wolters' scholarly research along with his personal experiences allowed him to write a comprehensive examination of the history of the U.S. Navy's shipboard command and control systems from the Civil War to World War II. "Information at Sea" shares stories of the naval and civilian personnel who established technologies for managing information at sea, including signal flares, radio, encryption machines and radar.

"The importance of command and control in military history has always been recognized, but has long been understudied," Wolters said. "In most instances scholars have focused on command and control only after major failures, such as at Pearl Harbor, where American radar tracked the incoming Japanese aircraft but the information systems then in use simply didn't work."

The book's narrative derives from deep archival research, much of it conducted at the U.S. National Archives. 

"One of my more interesting research trips was to Purdue University, where I examined the papers of a fascinating fellow named Benjamin Miessner," Wolters said.

Miessner was a pioneer in aircraft radio, but he lost his job with the U.S. government during World War I because a neighbor accused his family of making pro-German statements. Miessner appealed his dismissal to Assistant Secretary of the Navy Franklin D. Roosevelt, but Roosevelt decided not to reverse the decision and the service lost one of its "leading radio experts."

"It is stories like these that make history so interesting," said Wolters. 

Wolters uses his own experiences to enhance his scholarly work. He was in Navy ROTC as an undergraduate at the University of Notre Dame and received his engineering education through the U.S. Navy's nuclear power program. He credits his experiences as a submariner and engineer for making him a better historian. 

"I find that my naval experiences afford me an invaluable perspective on the people and technologies I study as a historian."

He said students too often view history as the memorization of dates and facts, "but that is no more true than saying that engineering is only about math." Both disciplines require a creative mindset, are analytically rigorous and rely heavily upon the analysis of data. 

Wolters currently serves as the commanding officer of a Submarine Force Reserve Component detachment at Joint Reserve Base, Fort Worth, Texas. His unit's mission is to augment the United States' anti-submarine warfare (ASW) facilities worldwide to protect American interests against potentially hostile submarines. This summer he will be in charge of all reserve submarine support for the world's largest maritime exercise, RIMPAC, which involves 22 nations and more than 40 ships and submarines.

Wolters' has big responsibilities as a commanding officer, but enjoys the experience.

"My favorite assignment was when the Navy put me in charge of the ASW cell aboard the USS Ronald Reagan during an at-sea exercise," he explained." When not standing watch, I got to go topside and observe carrier flight operations. Now that was cool."

The Department of History is an academic unit in the College of Liberal Arts and Sciences at ISU.
About Liberal Arts and Sciences The College of Liberal Arts and Sciences is a world-class learning and research community. Iowa State's most academically diverse college, LAS educates students to become global citizens, providing rigorous academic programs in the sciences, humanities and social sciences within a supportive personalized learning environment. College faculty design new materials, unravel biological structures, care for the environment, and explore social and behavioral issues. From fundamental research to technology transfer and artistic expression, the college supports people in Iowa and around the world.
NEWS RELEASE College of Liberal Arts and Sciences, Iowa State University
Contacts: Tim Wolters, Department of History, (515) 294-4672 wolters@iastate.edu Mary-Kate Burkert, Liberal Arts and Sciences Communications, mburkert@iastate.edu Steve Jones, Liberal Arts and Sciences Communications, jones@iastate.edu