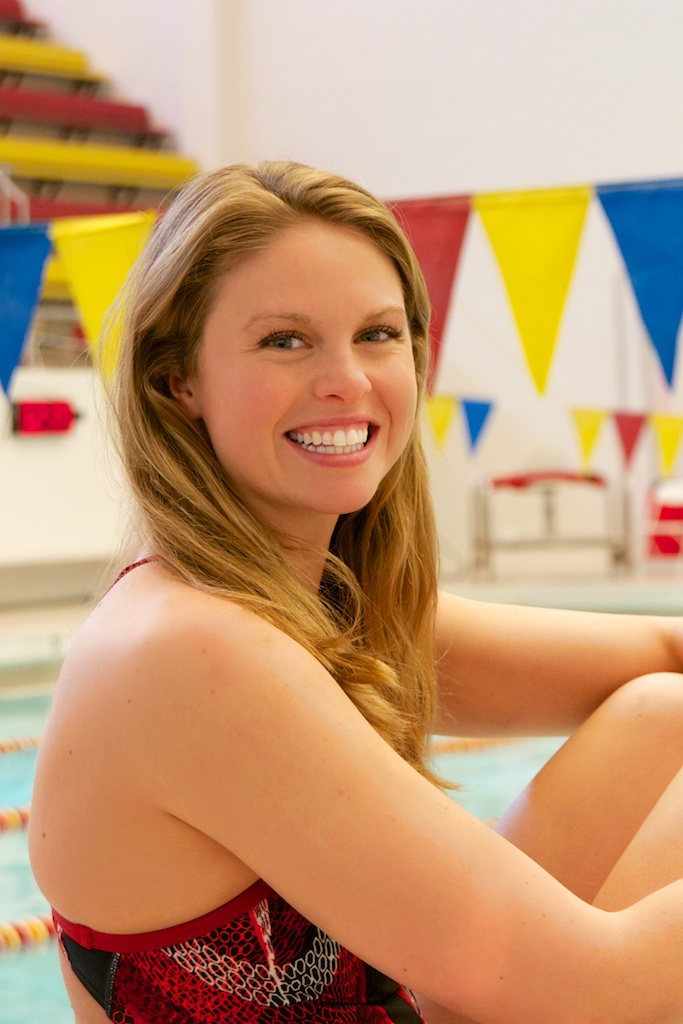 Like any new Iowa State University student, Alex Gustafson began her Cyclone adventure with a handful of expectations. She wanted to study environmental science and compete as a Division I athlete as a member of the ISU Swimming and Diving Team.
Her list of collegiate activities didn't stop there. A senior from Waukee, Iowa, Gustafson also became a campus leader in sustainability programs, worked as a teaching assistant and continues to be a role model for other students.
[feature_image]
Most recently, her campus accomplishments earned her a place on the Carrie Chapman Catt Center for Women and Politics' 2014 Women Impacting ISU calendar. In its eighth year, the calendar honors 12 Iowa State faculty, staff and students who have made a positive difference on campus. Sixty-four women were nominated for the current calendar.
"This award was earned, truly, by encompassing and honoring all that I have been involved in throughout my college career," Gustafson said. "The fact that I was seen as worthy among them was very humbling for me." In her first semester at Iowa State, Gustafson took an international relations course in the Department of Political Science in order to fulfill an elective requirement. Fascinated by the topic, she enrolled in another political science class, Latin American politics, where she met Steffen Schmidt, a University Professor in political science.
Schmidt watched Gustafson's leadership skills evolve in her role as his teaching assistant, and he nominated her for the Women Impacting ISU calendar.
"She did a fantastic job and gave a great class lecture. She also excelled at mentoring students and helping with writing tests and grading," Schmidt said. "Jason Chrystal, the political science student adviser, and I agreed that she was one of those unusually motivated, dedicated students who is a role model for others."
Gustafson, now majoring in political science and environmental science, is quick to credit her accomplishments to her professors, coaches and teammates. While serving as a teaching assistant, Gustafson said she gained a tremendous amount of confidence and knowledge.
"Steffen gave me and the other undergraduate teaching assistant a chance to teach two lectures in his E-Democracy [Electronic Democracy] class. The experience taught me so much and is something I will never forget."
Gustafson is an enthusiastic supporter of sustainability programs on campus. She was a co-president of The Green Umbrella, an ISU sustainability education, outreach and action group. She also helped plan ISU's National Campus Sustainability Day, the annual Sustainapalooza event, and Earth Week activities.
The two-time Academic All-Big 12 middle distance swimmer said she has been motivated by all the many great people she has worked with on campus.
"In a nutshell, I see inspiration all around me. As we all know, some days work out better than others, but I surround myself with people who show me all of the dreams I can reach for, and they are really supportive of me."
Gustafson, who graduates in spring 2014, plans to attend graduate school in fall 2015 to study environmental science with an emphasis on coastal policy and resource management. She will travel during her year away from school with plans to climb Africa's Mount Kilimanjaro with her father, as well intern at Mossel Bay with "Oceans Campus" in South Africa, where she will aide in research of humpback wales, bottlenose dolphons, fur seals and great white sharks.
About Liberal Arts and Sciences The College of Liberal Arts and Sciences is a world-class learning and research community. Iowa State's most academically diverse college, LAS educates students to become global citizens, providing rigorous academic programs in the sciences, humanities and social sciences within a supportive personalized learning environment. College faculty design new materials, unravel biological structures, care for the environment, and explore social and behavioral issues. From fundamental research to technology transfer and artistic expression, the college supports people in Iowa and around the world.
NEWS RELEASE College of Liberal Arts and Sciences, Iowa State University
Contacts: Alex Gustafson, Department of Chemistry, axgustof@iastate.edu Mary-Kate Burkert, Liberal Arts and Sciences Communications, mburkert@iastate.edu Steve Jones, Liberal Arts and Sciences Communications, jones@iastate.edu