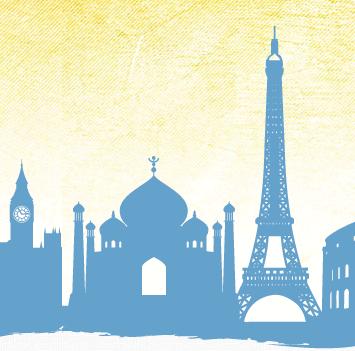 [feature_image]
Iowa State University is known for its out-of-classroom learning experiences, and one of the most significant is study abroad.
ISU students can learn about the numerous study abroad opportunities available to them at the Study Abroad Fair, Thursday, Jan. 23, 10:30 a.m.-1:30 p.m. in the Memorial Union Great Hall.
The event is also good for faculty who want more information about leading their own study abroad opportunity someday. The directors of ISU faculty-led programs and ISU-affiliated third-party provider programs will be in attendance to discuss both short-term and long-term study abroad experiences.
Nancy T. Guthrie, director of study abroad in the College of Liberal Arts and Sciences, works with students who want to study internationally and with college faculty who want to teach abroad.
"The Study Abroad Fair is a unique opportunity to speak with program directors and students who have participated in programs in the past, and all in one location," said Guthrie. "They have first-hand experience in how study abroad can be used to enhance a student's résumé or lead to other internships, service-learning or volunteering abroad."
Chad Gasta, professor and chair of the Department of World Languages and Cultures, said study abroad is an influential experience for students. "Studying abroad will be one of the most significant, satisfying and memorable things a student will ever do."
Gasta estimates more than 80 percent of world languages and cultures students study abroad. "No matter what language one studies, a study abroad experience provides an opportunity to improve proficiency in the language and become not only bilingual but also bicultural."
Not all study abroad programs require participants to speak another language. Many opportunities are offered in English.
About 1,300 Iowa State students study abroad annually. Nearly 250 Liberal Arts and Sciences students participated in study abroad last year, and the number is growing, Guthrie said.
-30-
NEWS RELEASE College of Liberal Arts and Sciences, Iowa State University Contacts: Katherine Marcheski, Liberal Arts and Sciences Communications, klmarch@iastate.edu Steve Jones, Liberal Arts and Sciences Communications, (515) 294-0461, jones@iastate.edu