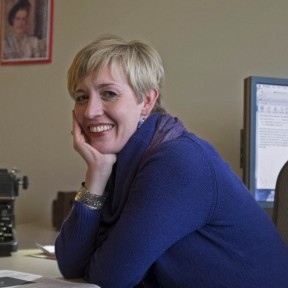 [autop] The full name of America's first successful financial columnist wasn't revealed for nearly a decade after their first column was written.
"S.F. Porter," later acknowledged as Sylvia Porter, created a new career in the early 1930s: personal finance journalism. Her columns in the New York Post were wildly popular, earning her a strong following as one of New York's most respected financial writers. Then, in 1942, it was revealed that the believed-to-be "wise old man" behind the thrice-weekly column was, in fact, a woman.
[feature_image]
Gasp!
"People didn't think women knew anything about money, but Sylvia Porter was an excellent writer and had a brilliant understanding of macroeconomics," said Tracy Lucht, an assistant professor in the Greenlee School Journalism and Mass Communication at Iowa State University.
Lucht discovered a short article about Porter while in graduate school studying postwar representations of American women in news magazines. The article, from a 1958 issue of Time magazine, began with this line:
She bustles through the messy, male-contrived world of finance like a housewife cleaning her husband's den—tidying trends, sorting statistics, and issuing no-nonsense judgments as wholesome and tart as mince pie. 
Lucht found the story fascinating, but there wasn't much written about the columnist who was, for several decades, a household name. So Lucht reintroduced her in a new biography, "Sylvia Porter: America's Original Personal Finance Columnist," which was recently released by Syracuse University Press.
"Sylvia Porter wasn't only our first finance columnist, she was a personal brand before we knew what a personal brand was," Lucht said.
Porter wrote for the middle class and took her job seriously. Her plainspoken financial advice appealed to the masses, and covered topics from government bonds to corporate debt restructuring. She aimed to discuss money and economics in a way that not only easy to understand, but interesting.
In her book, Lucht identifies Porter's career strategies and her role as a woman in a male-dominated field. Despite the media frenzy that ensued after it was revealed she was a woman – even with headlines such as, "A Financial Editor Can Be Beautiful!" Porter focused on bettering herself and building her brand.
"She certainly didn't mind the attention given to her looks – that helped her career," Lucht said. "Her gender influenced how she approached her work, but not what she wrote about."
Porter rose through the ranks to become a national finance authority. (She was appointed to John F. Kennedy's Consumer Advisory Council and was chair of Gerald Ford's Citizens Action Committee to Fight Inflation, in addition to requests from Lyndon B. Johnson.) As she did, she remained a proponent of professional women's rights, though she was still tough on women – and men, for that matter.
"She would balance her views by saying that anyone who worked hard and had talent could succeed if they wanted," Lucht said. "At a speech she gave at a women's college, she said, 'if you're not going to excel there is no reason to do it."
Porter was an elitist. She didn't see other workers – females included – as equals. For many reporters who worked under her, she did not use their full names, the very thing she was denied years before.
"She wasn't always the most ethical person, and she wasn't always generous with other women," Lucht said. "She worked so hard, but she wouldn't share it. She had the attitude of, 'I fought through all these barriers, so you should have to as well."
Lucht said she had to do some "soul searching" as she completed the book.
"She has made me more open and committed to my own success," she said. "But she has made me more committed to helping other women reach their goals, too." [/autop]
    Read all about Porter's life and legacy in Lucht's book, "Sylvia Porter: America's Original Personal Finance Columnist," which can be purchased at Syracuse University Press and at Amazon.com.
[feature_footer author="Jess Guess" read_more="alumni"]