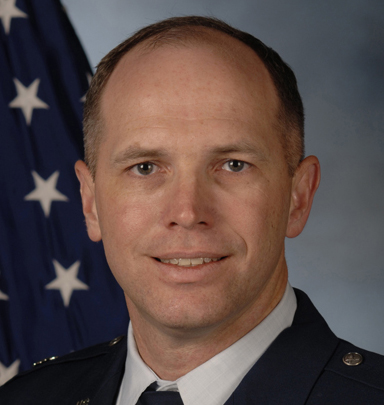 Lt. Col. Ryan Hollman

Lt. Col. Ryan D. Hollman is the new commander of the Air Force Reserve Office Training Corps (AFROTC) Detachment 250 and chair of the Air Force Aerospace Studies Department at Iowa State University.

Hollman received his commission in 1993 from AFROTC at Iowa State when he graduated with a degree in computer science. He has been in the Air Force for 19 years, beginning his career as a communications-computer officer and later attending pilot training. He has served as a bomber pilot, instructor pilot, evaluator pilot, flight commander, chief of wing standardizations and evaluations, wing director of staff, and squadron commander of the 612th Support Squadron.

Air Force Aerospace Studies is an academic unit in the College of Liberal Arts and Sciences at ISU.

Hollman is a senior pilot with more than 1,900 hours of flight time aboard B-1B, T-38 and T-37 aircraft. He has flown 29 combat missions and has 444 combat hours in support of Operation Enduring Freedom.

His selection as chair is a two-year assignment, with an option for a third year. During that time, he plans to continue the program's excellence

"My overall goal is to produce the best officers for the Air Force," he said. "It's more than just an interest in the Air Force, these students have to excel in class, show great leadership and be in great physical shape."

Hollman's responsibilities include the comprehensive military education of cadets resulting in the annual commissioning of high-quality second lieutenants who are "fully prepared and motivated to excel across a spectrum of active duty leadership requirements," he said.

"My job is to teach while evaluating the cadets' ability to become leaders. The Air Force isn't for everyone."

His major awards and declarations include the Meritorious Service Medal with three oak leaf clusters, the Air Medal with one oak leaf cluster, the Aerial Achievement Medal, the Air Force Commendation Medal with one oak leaf cluster, the Air Force Achievement Medal with one oak leaf cluster and the Combat Readiness Medal with one oak leaf cluster.

Hollman succeeds Lt. Col. Michael C. Novy.