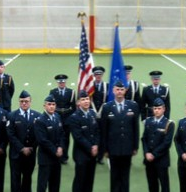 Members of each of the three ROTC branches at Iowa State University (Army, Air Force and Navy-Marines) will be performing their semester change of command ceremony on ISU's central campus Thursday, April 18, at 4:30 p.m.
This is ISU's first joint ceremony in which the leadership of each corps, detachment and battalion is transferred to new hands. The ceremony also culminates a year of rigorous professional training conducted by each of the ROTC branches on campus.
Once the former cadet commanders are relieved and the new cadets installed, the ROTC members will then parade in military formations in front of the commanders to be reviewed, according to U.S. Air Force Capt. Brian Witthoeft, assistant professor of aerospace studies.
The event is open to the public, but those attending are asked to keep from entering the grassy area north of the flagpoles on central campus.