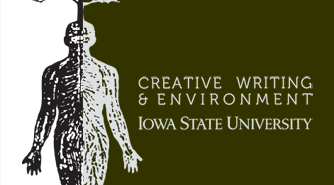 Sunday, April 7, come to oxbow banks of Bluff Creek, a local tributary of the Mississippi located within Iowa State University's Everett Casey Nature Center and Reserve, to celebrate water in its wild state as Iowa breaks into spring.
At 3 pm, gather on the upland slopes of the Casey Reserve to hear writer-artist Wang Ping and writer-activist Rick Bass discuss how their writing and art intersects with community engagement and environmental awareness. Members of the MFA Program in Creative Writing and Environment will then lead a hike down through the Casey woods to Bluff Creek, where you are encouraged to wander along the creek banks to recharge your connection with the outdoors.
The MFA Program will provide writing and art-making supplies, and encourage you to participate in a collaborative public art project along the banks of the creek, to capture the essence of water in our immediate environment, and to reflect on the importance of this natural resource in our lives.
This event concurs with Wang Ping's "Kinship of Rivers" project, a country and culture-spanning mission to bring together the riverside communities of the Mississippi and the Yangtze in a shared appreciation for water's ubiquitous value. Wang, accompanied by a musician, will conduct a blessing for Bluff Creek, and will travel with our water-inspired art to a final installation point in the high mountains of Tibet.
Join us in this afternoon of conversation, art-making, wandering, and reconnection with our local wilderness and water.
To get to the Casey Reserve take US 30 West from Ames toward Boone/Ogden. Take the Ogden exit and turn right. Drive north through town on N 1st St onto Co Hwy P70. Turn right onto 170th St. Drive east, down and up a hill, and at the top of the hill find on your right a small sign and gravel path marking the entrance to the Casey Reserve.
Contact Geetha at gsiyer@iastate.edu for questions about the event, or about carpooling opportunities.