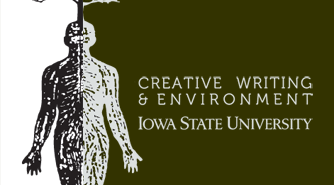 If Iowa State University's English department has a trophy case, it may need to add more shelves.
Seven students and faculty have recently received awards for a variety of writing accomplishments, from poems to novels.
The awards are a well-deserved nod to the department's hard-working writers, and also to the department itself. The MFA Program in Creative Writing and Environment has been coaching talented writers for six years – and those writers have been earning literary awards and publishing deals.
"We have really, really fantastic writers in our program," Debra Marquart, professor of English and member of the MFA program faculty, said. "The competition is very fierce to earn a literary award, and our students have been publishing a lot lately. In the past nine months, this stunning and amazing thing has happened – we have had six winners. That is a good sign you have a high-quality group."
The Department of English is an academic unit in the College of Liberal Arts and Sciences at ISU.
About 30 graduate students make up the program, which is unique from many other M.A. creative writing programs because it is interdisciplinary and takes three years to complete, instead of two.
"When we created this program, we knew that we had an incredible wealth of brain power at ISU," Marquart said. "Environmental issues are discussed all the time on campus. We decided to focus the program around those issues, and so the students must think about the environment in their creative pieces."
Students take classes outside of the English department in anything that helps them better understand the subjects they are writing about – from botany to religious studies – in addition to creative writing workshops. Most students also teach in the English department.
"It takes a very unique person to become a creative writer," she said. "You have to be driven, and you have to have a certain amount of belief in what you're doing."
The winners Marquart was among the winners, and was presented the David B. Saunders Award for Nonfiction from Cream City Review for her essay, "Ephemera."  She wrote the essay for a Dean's lecture a couple years ago while she was in Greece. A Cream City Review judge said of the piece: "Subtly layered and stunningly crafted, 'Ephemera' exemplifies what it means to essay."
Associate professor David Zimmerman received the 2013 Alex Award from the American Library Association for his recent novel, Caring is Creepy.
Each year, 10 Alex Awards are given to books written for adults that have a special appeal for young adults (ages 12 through 18). The awards are given to novels published the previous year, and have been given since 1998.
Published by SoHo Publishing Company, Caring is Creepy tells the story of a 15-year-old girl whom finds love and control despite her unruly mother.
Ben Percy, a contemporary American writer and former ISU faculty member, wrote "David Zimmerman has written a beautifully menacing novel. I found it impossible to stop reading – as teenage girls flirt with danger online, an AWOL soldier hides out in a closet, and drug deals go dead wrong – and you will too, as the danger steadily escalates, the sentences unspooling like a detonator line that sizzles toward an explosive, unforgettable ending."
The title of Zimmerman's novel was inspired by The Shins' song of the same name. "When someone mentioned "Caring is Creepy" in a brainstorming session at my publisher's office, I knew it was the right choice for the book," he said.
Zimmerman has written two other award-winning novels. Caring is Creepy is his second long novel, published in 2012, after 10 years of multiple drafts and short stories were submitted to SoHo.
Andrew Payton, a third-year student in the MFA Program, was awarded the James Hearst Poetry Prize from The North American Review for his poem, "Bad May." The award includes a $1,000 honorarium and publication in The North American Review, which is the oldest literary journal in the country.
Nate Pillman, a third-year student in the MFA Program, received The Puritan Magazine's Thomas Morton Memorial Prize in Literary Excellence for his short story, "Kyle's Place." The award includes publication and an honorarium. The Puritan is an online, quarterly publication based in Toronto committed to publishing the best in new fiction, non-fiction, poetry, interviews and reviews.
Lindsay Tigue, an MFA student from Michigan, was awarded the annual ½ K Prize from Indiana Review for her flash fiction piece, "Michigan Central Station Has Been Closed Since 1988."
Geetha Iyer, an MFA student from Florida, received the 2012 Gulf Coast Fiction Award for her short story, "The Glass-World Builder," which will be published in Gulf Coast.
Also, adjunct lecturer Christiana Langenberg received an honorable mention in the Gulf Cost Nonfiction Award for her essay, "Foiled."
"We know that we have admitted really remarkable writers," Marquart said. "The national prizes put a seal of approval on their skills and distinguish them from other writers. They are the gold standard, and we feel very lucky to have them in our program." -30-
NEWS RELEASE College of Liberal Arts and Sciences, Iowa State University
Contact: Jess Knight, Liberal Arts & Sciences Communication, (515) 294-9906, jeknight@iastate.edu