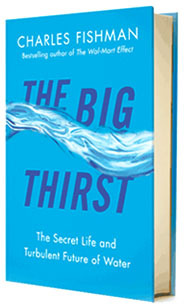 AMES, Iowa – The ninth annual Symposium on Wildness, Wilderness and the Environmental Imagination returns to Iowa State University beginning Monday, Feb. 25. This year's theme, The Future of Water, includes a series of lectures, creative readings, panel discussions, book signings, receptions and a documentary.
ISU's Master of Fine Arts in Creative Writing and Environment program, in the Department of English, sponsors the yearly environmental literary festival. Also included are award-winning authors, poets and filmmakers. The events will continue through April 8 and are free and open to the public.
Charles Fishman will present "The Big Thirst" at 8 p.m. Monday, Feb. 25, in the Memorial Union Great Hall.
See the complete schedule of events
9th Annual Symposium on Wildness, Wilderness & the Environmental Imagination
Monday, Feb. 25
8 p.m., Memorial Union, Great Hall, speech by Charles Fishman about his book The Big Thirst. Fishman is the author of one of Amazon's Best Books of 2011. His talk is the keynote address for the symposium, where he will address our strange and complex relationship with water and explain why we've reached the end of the era of easy water. Fisherman's book, The Big Thirst: The Secret Life and Turbulent Future of Water, explores the politics, economics and culture of water, and our complex relationship with the precious resource. (See more on Fishman at ISU)
Tuesday, Feb. 26
9 a.m., Memorial Union, Cardinal Room, moderated conversation with Charles Fishman and Melissa Lamberton, Science Writing & the Environment. Join Fishman for an informal discussion about science writing and writing about the environment. The award-winning journalist will be accompanied by Melissa Lamberton, a fellow journalist, and also a poet and naturalist from Tucson, Ariz. Lamberton's writing focuses on western water issues, including the legal rights of rivers.
Thursday, March 28
7 p.m., Octagon Center for the Arts, Ames, Environmental Field Experience Presentations Graduate students from the MFA Program in Creative Writing and Environment will present their research and creative work springing from the environmental field experiences they have completed while in the program.
Friday, March 29 (all-day event held in the Memorial Union's Pioneer Room)
9-11 a.m., Documentary film, "Gasland." Can you light your water on fire? When filmmaker Josh Fox is asked to leave his land for gas drilling, he embarks on a cross-country odyssey uncovering a trail of secrets, lies and contamination. A recently drilled nearby Pennsylvania town reports that residents are able to light their drinking water on fire. This is one of the findings of a new country called "Gasland."
11-11:50 a.m., "Approaching Ice" poetry by Elizabeth Bradfield Award-winning poet Elizabeth Bradfield portrays the gripping history of polar exploration by channeling its most notable figures, and relays the wonders and dangers, physical and mental, encountered while endeavoring to reach the earth's least-hospitable regions.
1-2 p.m., Flyway "Home Voices" Award Winners reading Join Megan White and Claire Kruesel as they present their personal essays and poems from "Flyway: A Journal of Writing & Environment."
2-3:30 p.m., Panel Discussion: Exploration, Empire & Environmental Justice Poets Elizabeth Bradfield and dg nanouk okpik will discuss political implications as well as the ethics and responsibilities of exploration and resource management in a postcolonial world. Who wins, who loses, who profits?
4-4:50 p.m., Corpse Whale reading "In her captivating debut collection, Corpse Whale, Inuit poet dg okpik creates a world both prehistoric and contemporary, part boreal forest, part bestiary of the half-imagined, filled with caribou and rhubarb, mastodon tracks, snowberries and demon flowers. Okpik litters this landscape with soda bottles and oil slicks and alludes to psychology and DNA, vital concerns for a poet who is so interested in ideas of historical space and self-identity. And there is always a human spirit underlying the ice and hiding between silver birch and elderberry, invoking her ancestry, steering by the polestar." – Diego Báez
7-8 p.m., Deep Blue Home: An Intimate Ecology of our Wild Ocean reading by Julia Whitty Deep Blue Home is a penetrating exploration of the ocean as a single vast current, the watery force connected to the earth's climate control and so to the eventual fate of the human race. Whitty's 30-year career as a documentary filmmaker and diver has given her sustained access to the scientists dedicated to the study of an astonishing range of ocean life.
8-9 p.m., Julia Whitty Q & A As a former filmmaker and an environmental correspondent, Julia Whitty has had the opportunity to travel to and document some of the world's most fragile places. Following her reading, Whitty will discuss the ethics of writing about threatened places and endangered species. Tegan Swanson will moderate the Q & A following Julia Whitty's lecture.
Monday, April 1
8 p.m., Memorial Union, Great Hall, "Crazy Brave" reading by Joy Harjo Author, poet, and musician Joy Harjo is one of the leading Native American voices of our time. Her new memoir, Crazy Brave, is a tale of a hardscrabble youth, teenage motherhood, and her journey to becoming an internationally recognized writer and performer.
Monday, April 8
7 p.m., Memorial Union, Sun Room, Kinship of Rivers, a reading by authors Rick Bass and Wang Ping Author and environmentalist Rick Bass has published and edited over 25 works of nonfiction, nature writing, essay collections, short story collections, novellas and novels. Ping is an author and poet. Her current research on the Kinship of Rivers project focuses on the destructive effects of China's globalization and modernization on natural and cultural landscapes. -30-
NEWS RELEASE College of Liberal Arts and Sciences, Iowa State University
Contacts: Deb Marquart, English, (515) 294-3173, marquart@iastate.edu Paige Berg, Liberal Arts & Sciences Communication, (515) 294-0461, pmberg@iastate.edu Steve Jones, Liberal Arts & Sciences Communication, (515) 294-0461, jones@iastate.edu