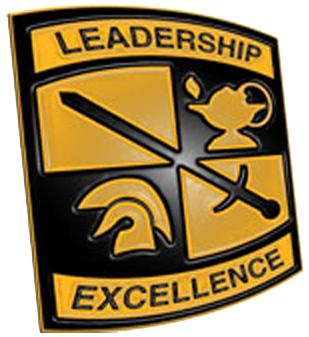 ROTC scholarship recipients attending ISU are, front row, from left, Adam Schilling, Adam Nguyen, Trevor Thein, George Sterling, back row, Zachary Moran, Christopher Garza, Michael Smith, Brandon Amerine and Bryan Cunningham.
AMES, Iowa – Members of Iowa State University's Cyclone Battalion won 11 of 40 scholarships awarded this fall in a nationwide competition open to all Army ROTC seniors. The total was the highest among any battalion in the nation.
The Cyclone Battalion's three national scholarship award winners and eight regional award winners were in the Cadet Command Civilian Sponsored Scholarship Program. The scholarships were awarded on various criteria, such as academic and ROTC performances, campus activities, a written essay and successful completion of the challenging summer ROTC Leadership Development Assessment Course.
ISU's Army ROTC military science program is an academic unit in the College of Liberal Arts and Sciences.
More than 6,000 cadets across the nation were eligible to apply, said Lt. Col. Richard Smith, Cyclone Battalion commanding officer and professor of military science. "Receiving 11 of 40 scholarships available to all students is a testament to the excellence of cadets in the Iowa State Army ROTC program."
The Cyclone Battalion has won its share of awards in recent years. In October, the battalion had the first- and third-place men's teams and the winning female team at the Task Force Ranger Challenge Competition at Camp Dodge in Johnston. Twenty male and seven female teams from nearby states competed. ISU has taken first place in the men's competition 10 out of the past 11 years.
On Nov. 2, the men's unit finished a close third and the women ended fourth at the ROTC Brigade Ranger Challenge Competition at Camp Dodge. The best teams from the brigade's 11 Midwest states took part. Each ISU team won two events – the men won both the day and the night land navigation and the women were first in the one-rope bridge and day land navigation.
"We missed second place by one point," Smith said. "After two days of competition, that was pretty tough. However, we were extremely proud of both teams for getting this far in the brigade competition. The field started with over 100 teams competing in the task force competitions."
The Cadet Command Civilian Sponsored Scholarship Program winners from the Cyclone Battalion include one student from Grand View University and another who attends Buena Vista University:
National Award Winners
The Raytheon Scholarship ($1,500): Adam Schilling, Iowa State University
The Joseph Cribbins Scholarship ($2,000): Sidney Namanny, ISU ROTC (attends Grand View University)
The Government Employees Insurance Company (GEICO) Scholarship ($1,500): Jaime Oberg, ISU ROTC (attends Buena Vista University)
Regional Award Winners
The Combined United Services Automobile Association (USAA) Scholarship ($1,000): Brandon Amerine, Iowa State University Bryan Cunningham, Iowa State University Christopher Garza, Iowa State University Zachary Moran, Iowa State University Adam Nguyen, Iowa State University Michael Smith, Iowa State University George Sterling, Iowa State University Trevor Thein, Iowa State University
-30-
About Liberal Arts and Sciences The College of Liberal Arts and Sciences is a world-class learning and research community. Iowa State's most academically diverse college, LAS educates students to become global citizens, providing rigorous academic programs in the sciences, humanities and social sciences within a supportive personalized learning environment. College faculty design new materials, unravel biological structures, care for the environment, and explore social and behavioral issues. From fundamental research to technology transfer and artistic expression, the college supports people in Iowa and around the world.
NEWS RELEASE College of Liberal Arts and Sciences, Iowa State University
Contacts: Rick Smith, Military Science, (515) 294-0310, rfsmith@iastate.edu Steve Jones, Liberal Arts and Sciences Communications, (515) 294-0461, jones@iastate.edu