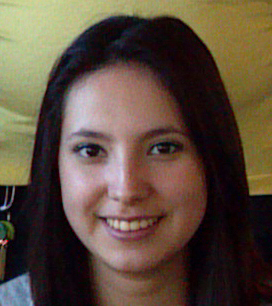 Project SEED participants are students, front row from left, Maria Andrade, Luis Angel Martinez-Patino and Jasmin Cisneros. Chemistry faculty serving as mentors are, back row from left, Emily Smith, Javier Vela and Malika Jeffries-EL.
AMES, Iowa – Three central Iowa high school students, including one who is now attending Iowa State University, explored chemistry at the collegiate level at ISU last summer in a program for economically disadvantaged students.
The three participated in Project SEED (Summer Experiences for the Economically Disadvantaged), an eight-week science program at Iowa State sponsored by the American Chemical Society (ACS). The three students are Luis Angel Martinez-Patino from Lincoln High School in Des Moines, Maria Andrade from Marshalltown High School, and Jasmin Cisneros, a 2012 Marshalltown High graduate who is now studying biochemistry at Iowa State.
Project SEED is a program that gives high school students from low income and underrepresented family backgrounds the opportunity to participate in university and industry science labs, said Javier Vela, Iowa State professor of chemistry and Project SEED mentor and an associate of the Department of Energy's Ames Laboratory. The program has been held at ISU for the past three summers.
"The program really motivates the students and allows them to see what researchers do every day for a living," said Vela. "It is a humanizing experience and big eye opener for students to see normal people doing research."
Vela has high hopes for the program next summer, setting a goal to host five high school students. He also would like to expand the program to other universities across Iowa and to other areas of science.
Chemistry is an academic department in the College of Liberal Arts and Sciences at Iowa State.
Martinez-Patino has a passion for learning about chemistry, and getting involved with Project SEED has influenced his future career path. He learned valuable information from graduate students while in the lab, understanding how vital it is to have a strong background in mathematics and science.
"With this opportunity I actually did real chemistry, and I liked it more than I could ever imagine," said Martinez-Patino. "The program convinced me that I want to make chemistry my career."
Vela was the first and only mentor on board with Project SEED when he hosted his first student in summer 2010. During the summer 2012 session, fellow ISU chemistry faculty members Malika Jeffries-EL and Emily Smith joined Vela as mentors.
The Project SEED students were able to choose an area of chemistry that most interested them. Martinez-Patino was under the direction of Jeffries-EL, researching plastics and how they can be used in everyday life. Andrade paired with Smith, investigating interactions between proteins and biologically active molecules, which can one day lead to new health practices and medicines. Cisneros was under the direction of Vela, investigating how to make new materials for solar energy by harvesting and converting sunlight into power and fuels.
More on Project Seed
-30-
About Liberal Arts and Sciences The College of Liberal Arts and Sciences is a world-class learning and research community. Iowa State's most academically diverse college, LAS educates students to become global citizens, providing rigorous academic programs in the sciences, humanities and social sciences within a supportive personalized learning environment. College faculty design new materials, unravel biological structures, care for the environment, and explore social and behavioral issues. From fundamental research to technology transfer and artistic expression, the college supports people in Iowa and around the world.
NEWS RELEASE College of Liberal Arts and Sciences, Iowa State University
Contacts: Javier Vela, Chemistry, (515) 294-5536 vela@iastate.edu Paige Berg, Liberal Arts and Sciences Communications, (515) 294-0461, pmberg@iastate.edu Steve Jones, Liberal Arts and Sciences Communications, (515) 294-0461, jones@iastate.edu