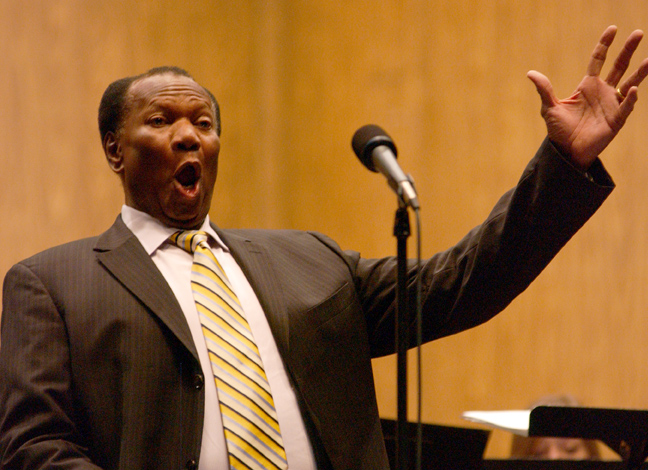 Simon Estes' Roots & Wings concerts continue on 99-Iowa county tour.

Simon Estes, adjunct professor of music and F. Wendell Miller Distinguished Artist in Residence.

Simon Estes has come back to his roots.

In March 2010, Estes embarked on a series of concerts in each of Iowa's 99 counties. Now a third of the way through the state, the renowned opera singer and Iowa native has awarded 53 scholarships to deserving high school seniors. As the Roots & Wings concerts resume this fall and continue throughout Iowa, Estes said hundreds of scholarships could be awarded before the 99-county tour ends.

Each Roots & Wings concert includes a performance by Estes, adjunct professor of music at Iowa State University and F. Wendell Miller Distinguished Artist in Residence, and features a local school choir. ISU students that have performed with him, or will be performing with him, include Michael Bagby (piano), Scott Hurst (vocal), Alexa Rainforth (vocal), Jocelyn Ascherl (vocal) and Alex Brousseau (vocal).

Alyssa Fitzpatrick, freshman in animal science, and Michael Wilkerson, freshman in software engineering, two of the many scholarship recipients from the Simon Estes Iowa Educational Foundation, Inc.

Proceeds from the concert tour go toward the Simon Estes Iowa Education Foundation, which in turn gives scholarships to students in the county ranging from $500 – $2,000 each.

Estes said the student scholarship qualifications include a high GPA, good moral character, a purpose, and financial need. Estes' scholarship committee interviews each scholarship finalist, and Estes has been overwhelmed by the applicants.

"Every applicant has been deserving," he said. "We haven't turned anyone down as long as they meet the qualifications." Estes' Foundation sends the scholarship money directly to the college or university the students choose to attend.

The day after each concert performance, Estes presents a lecture for students on the importance of education and developing good character. The Roots & Wings concert tour is one of many ways the opera performer has given back.

"I always thought that if I was blessed, I'd help other young people so they wouldn't have to struggle as I did financially," he said. "When I was a child, I never thought I'd get further east than Chicago."

Estes was born and raised in Centerville, Iowa. His family was economically poor, but rich in love and faith, he said. He worked his way through college in various jobs including scrubbing bathrooms and shining shoes. A University of Iowa professor discovered Estes' singing talent, which eventually led Estes to a full scholarship at Juilliard, a prestigious performing arts conservatory in New York City.

In his nearly 50 years of performing, Estes has lived much of his adult life out of Iowa, and outside the United States. He has performed for six presidents, two popes, and many kings and queens, and has sung on every continent except Antarctica.

Throughout his career he has found ways to help others. He started the Simon Estes Music High School in Cape Town, South Africa, he contributes funds toward mosquito nets to help prevent malaria in Africa, and four scholarships in Iowa bear his name along with another scholarship in Tulsa, Okla., through the Simon Estes Education Foundation. At Iowa State University, he established the Simon and Ovida Estes Scholarship in Music.

About six years ago, he and his wife decided to move back to Iowa and concentrate on helping young people in the state. The Roots & Wings tour will likely take three years total to complete, giving Estes the opportunity to continue sharing the singing and speaking gifts he said God gave him.

"The people of Iowa are wonderful, down-to-earth people," he said. "The response to these concerts has been so moving. I think I gain more than they gain."

Visit Roots & Wings for the concert schedule.