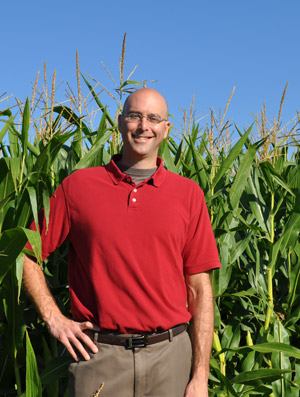 As a lanky youth, Dan Nettleton grew up in Algona amidst a sea of picture-perfect, north-central Iowa farm fields. Although not a farm kid, he knew corn up close and personal.
His parents, both high school teachers with summers off, rounded up their children for family detasseling jobs. Their task was to remove the tassels atop the corn stalks of certain rows to crossbreed two varieties of Iowa's iconic crop. The result was high-yielding hybrid seed corn.
One senses the tiring, dirty work in the dead of summer wasn't Nettleton's favorite activity.
"It was a tough job, but I think I am a better person for having had the experience," said Nettleton, a statistics professor at Iowa State University who still works with corn and other agricultural products, but in a less physical way.
Nettleton is a statistical genomicist. The Laurence H. Baker Chair in Biological Statistics collaborates with Iowa State plant and animal scientists and graduate students to design experiments and statistically analyze the results. His work is in demand.
Advances a few years ago in DNA microarray and DNA sequencing technologies revolutionized how scientists study a complex process called gene expression. In simple terms, gene expression levels indicate what genes are turned on and by how much. Researchers seek genes that, for example, increase livestock growth or repel crop pests.
The challenge, however, comes from the vast amounts of data generated. The new technologies kick out so much genetic information that statistical analysis is needed to make sense of what's important and what's not. Statistical trail blazer In comes Nettleton. He blazed the statistical genomics trail, applying existing statistics principles to the biological sciences, and sometimes creating new methods.
"It's a whole new paradigm for the life sciences and the amount of data they can collect now," Nettleton said. "It's really a data-rich science in the sense that they can measure tens of thousands of genes simultaneously, whereas scientists formerly did one gene at a time."
"Dan is really one of the leaders in this field," said David Oliver, interim dean of the College of Liberal Arts and Sciences and a biologist. "He helped bring statistical analysis to biology as one of the first people to work with life scientists." Nettleton's accomplishments aren't bad for an Iowa boy who never had a college biology course (he instead took chemistry and physics) and was recruited into statistics by someone watching him play college hoops.
The 6-foot, 5-inch Nettleton played basketball at Wartburg College for popular coach Buzz Levick, who was on his way to winning 510 games for the Knights. Spurning walk-on offers at larger schools, Nettleton was a three-year starter, averaging double figures in scoring in each of his last three seasons. He excelled even more in the classroom, twice earning first-team academic all-America honors and was named the national College Division academic all-America Player of the Year in 1991.
Another Wartburg player at the time was Jeff Isaacson, whose father, Dean, was professor and department head of statistics at Iowa State. The elder Isaacson knew Nettleton was a math major, and a top student to boot.
"I tried to convince him to apply to graduate school at Iowa State for statistics," Dean Isaacson recalled.
Nettleton was unsure of his plans and considered a career as an insurance company actuary. "Then Dean Isaacson got to know about me and recruited me into the discipline of statistics," he said.
"Dean tried to talk me into coming to Iowa State as a graduate student, but because I was still harboring an actuarial science interest, I thought maybe the University of Iowa would be a better place for me because it had a department of statistics and actuarial science."
In graduate school, thoughts of an actuarial science career changed in favor of becoming a statistics researcher and college professor. He earned his Ph.D. in 1996, spent four years on the University of Nebraska faculty before Dean Isaacson successfully recruited him to Iowa State in 2000.
Nettleton quickly maneuvered the learning curve of the biological sciences and started advising scientists on developing experiments and reading their mounds of data.
"I got really interested in these applications," Nettleton said. "By no means am I an expert in biology, but I understand the concepts well enough to be able to transform biological questions into statistical questions. I had a great set of collaborators, and we'd communicate with each other in terms we could both understand." From corn vigor to bioenergy Nettleton works on many scientific investigations – corn vigor, soybean pathogens, feed intake in swine, salmonella resistance in chickens and crops for bioenergy, to name a few.
Iowa State professor Patrick Schnable conducts genetic research for crop improvement. Nettleton meets weekly with members of Schnable's research group to discuss the design, analysis and interpretation of genomic experiments.
"This meeting is one of the highlights of our week," Schnable said. "Dan's very significant intellectual contributions at these meetings have had enormous impact on not only our research but also the professional development of my graduate students, post-docs and staff. He is a wonderful collaborator who is highly respected around the world."
Dean Issacson said Nettleton was "totally" a team player at Wartburg, an attribute he maintains today on the statistics faculty. "Dan was a senior when my son was a sophomore on the JV squad," said Isaacson. "As a senior captain Dan had time for my son and all other underclassmen. He shows the same character as an endowed chair."
Because newer technologies are allowing scientists to create even more and different data, Nettleton's work is ever changing. "The way researchers are now able to measure gene expression levels creates new data types we haven't seen before," he explained, adding, "There's still plenty of research to do on the statistics side."