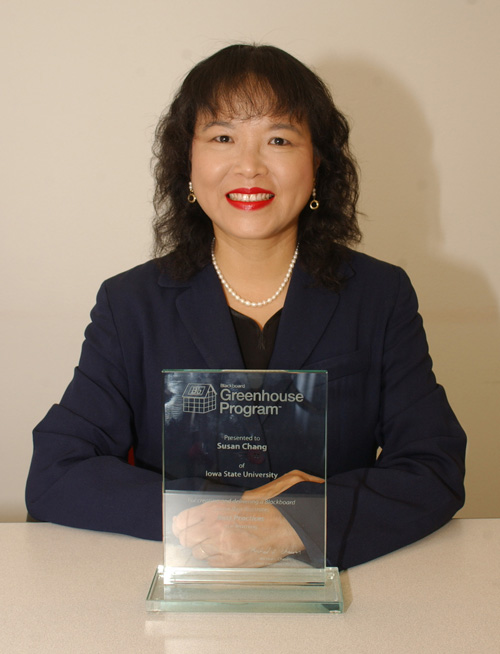 She teaches a class of 1,000 students and oversees 25 teaching assistants. Students see her in person only once.
Yet the student satisfaction rate for Shu-Hui H. (Susan) Chang's computer science 103 course, Computer Literacy and Applications, has been very high.
[feature_image]
Chang is the director of distance education for the Department of Computer Science. She successfully moved the popular course from a traditional classroom setting to an entirely online class while preserving student satisfaction and success.
For her efforts, Chang was awarded the Blackboard Greenhouse Exemplary Course Program Best Practice Award this year. Since 2001, the award has recognized the use of best practices in a number of learning areas leading to educational innovations.
Blackboard Inc. produces WebCT, the online course software used at ISU.
Prior to 2001, the course was taught in a conventional classroom. It was partially online the next two years and, since 2003, the four-credit course for non-computer science majors has been entirely online.
The sheer size of the class – she believes it's the largest at ISU – would seemingly present challenges for one instructor. But Chang incorporated a number of strategies, many of which are technology based and leaner-centered, that she believes makes the online class successful for students.
Chang begins the course by meeting with all 25 course sections the first week of the semester. "I help them go, step-by-step, through the course structure and materials in the computer lab and provide effective learner support information," she said. "After that they can work independently the whole semester."
She employs a systematic course design featuring weekly course updates (including assignment due dates) for students. Lectures are presented online in multimedia formats, so students can watch, listen to or read the material anytime.
Strategies are in place promoting online collaboration and interaction. She takes pride in being a student-oriented professor and answers all student e-mails within 24 hours.
"The active discussion board real-world case study group projects stimulate student critical thinking skills and build a strong online learning community," Chang noted. "The dynamic student homepage projects enhance social presence and foster an effective online community."
To ensure high-quality services and consistent instructions to the whole class, Chang works hard to handle the designing, teaching and the course management tasks herself for the 1,000 students. She also uses several different forms of assessment to evaluate students.
"Teaching online courses requires a lot of detail-oriented work," she said. "The systematic course management skills also boosted students' course satisfaction."
Well-trained teaching assistants grade homework assignments and field questions related to homework. Chang has been using the course as a basis for her research. She studied the course's student satisfaction levels during its transition from a traditional to an entirely online offering. The 10-year (1996-2005) research results showed that students were more satisfied with the instructor and the overall course as it evolved.
"Students were more motivated and stimulated by the online instructor via WebCT, and believed explanations were clearer," Chang explained. "Students also reported that they spent significantly less time in the entirely online class yet learned better than they did in the other two settings.
"And the students attained a higher level of satisfaction with what they learned in the class taught online compared to the other class formats due to the 'on-demand' learning style available through distance education."
Her research also indicated that a whopping 94 percent of her students were satisfied with the entirely online course.
Not surprisingly, the course has a waiting list.
She credits computer science chair Carl Chang, the Liberal Arts and Sciences deans and the ISU distance education support team for helping make the class a success.